Nigel Fryatt, Editor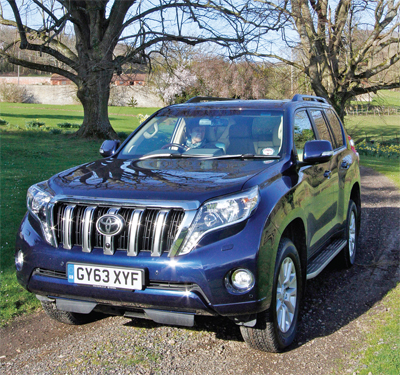 It's big, bold and brassy. Sitting on my suburban drive, it dominates. Now it's a long while since I drove my first ever Toyota Land Cruiser back in the mid-1980s – that was a 90 series diesel, very practical but with little passenger comforts. Since then we've both put on a lot of weight, and one of us has become rather clever at what it does; the other remains a motoring magazine journalist.
This latest Land Cruiser is in Invincible spec (surely the best moniker for any 4×4?). This means it is the five-door version, complete with additional third row of seats and is powered by the 188bhp 3.0-litre D-4D engine (delivering a thumping 420Nm of torque at only 3000rpm), coupled to a five speed automatic transmission and a very clever Multi-Terrain Select off-road system. The third row of seats are particularly well designed in the way that they fold flat, and do not seem to restrict rear luggage space, which in a vehicle of this bulk you would expect to be quite cavernous. The result means you can carry seven people and a little luggage, or five people and a great deal of extra stuff.
Our test model came in a particularly impressive Deep Titanium blue metallic paint, which is £700 extra and the Safety Pack option, which is something of a whopping £1360 more. In total, sitting on my drive was some £54,555 worth of off-roader. Things have certainly changed since the 1980s. What you also get with a new Land Cruiser is a five-year, 100,000 mile pan-European mechanical warranty, three-year paintwork warranty, 12-year anti corrosion and perforation warranty and one year's full AA breakdown cover – something we suspect few owners ever have need of. This beast is built to last, has over 60 years of Land Cruiser heritage behind it and gives the impression of being pretty unstoppable!

You can read more about this story in the June 2014 issue of 4×4 Magazine – available here