Nigel Fryatt, Editor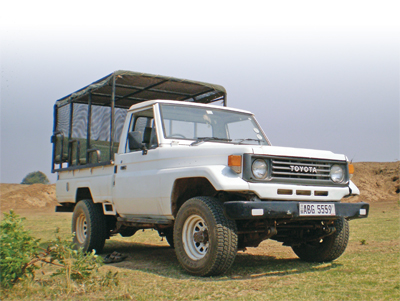 Some interesting off-roading this month, far away and certainly off-road. It's been vacation time, which has seen Sue and I on a camping and canoeing trip in Zambia; paddling around hippos, avoiding crocodiles and photographing elephants. Of course, there's been a little conventional off-roading as well, courtesy of some interesting Toyotas. You cannot help but notice that throughout Zambia, the off-roader of choice has a Toyota badge on the bonnet. Land Rovers? As elusive as leopards, to be honest. They are there but you have to search them out. When it comes to Toyotas, however, a bit like Impalas, they are everywhere.
Admittedly it's a bit of a cheek trying to claim this was an off-road trip, since the off-road in question was actually in canoes, and paddling down the Zambezi. We were a small group, together with two guides, camping on the islands in the river (interestingly, at this point the river is the border between Zambia and Zimbabwe, the islands in the river being officially 'no-man's-land'). A fantastic trip, to be recommended if you enjoy wildlife and getting well away from civilisation, as we were pretty remote at times. It was also no journalistic 'freebie', we paid our way and can heartily recommend the company that organised the trip, Exodus. And if you get guides TK and Norman to instruct, guide and protect then you'll have as good a time as we did. Check out the Exodus website on www.exodus.co.uk.
It wasn't all by canoe, of course. We had to get from Lusaka, south to the Lower Zambezi and after we had travelled some 116km or so by river, we had to get back. The river runs at a significant current, probably three or four knots so there was little chance of paddling upstream! And this is where the Toyotas came in. The converted diesel Land Cruiser 70 series safari-style people carrier was tough as old boots and took an amazing beating over the tracks we covered through the bush. One had an alarming reluctance to start – alarming when it does it miles from anywhere, at night, after you've stopped to watch water buffalo, who are then moved on by approaching lions. Somehow you knew it would start eventually…

You can read more about this story in the December 2013 issue of 4×4 Magazine – available here