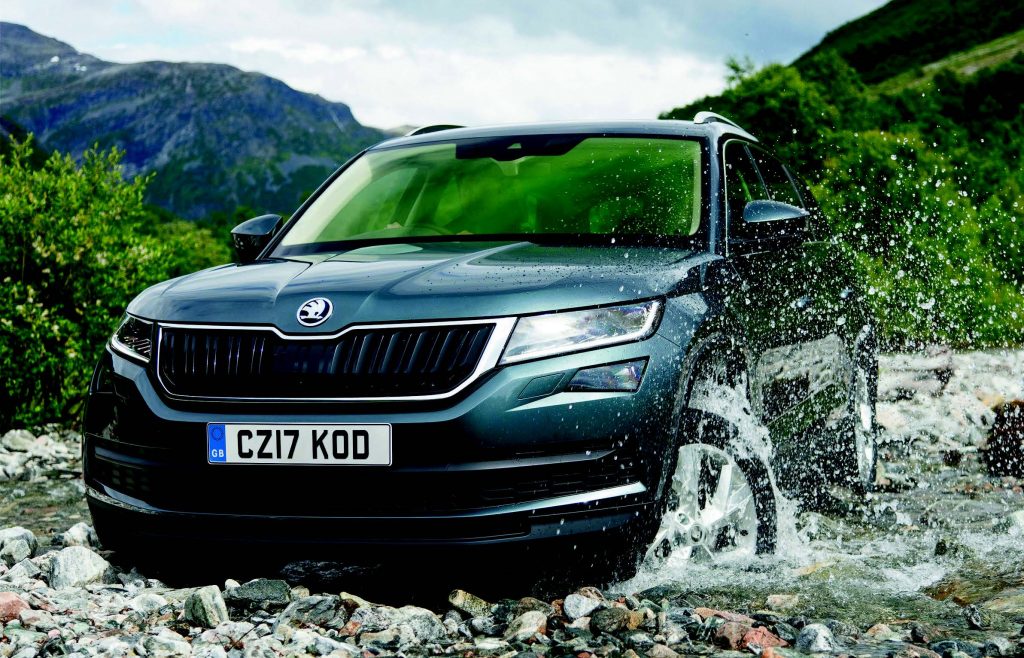 Skoda came late to the SUV game. But when it arrived, the Yeti rewrote the rules on how a small 4×4 should be. Now the company aims to do the same thing with the Kodiaq, a larger vehicle whose all-road ability, seven-seat practicality and sensible pricing is aimed directly at the heart of Discovery Sport territory.
Based on the latest technology used throughout the Volkswagen Group, the Kodiaq is designed to be as family-friendly as possible. Not all models have seven seats, just as not all have four-wheel drive, but with a choice of five engines, two gearboxes and four trim levels, it's unlikely that you'll fail to find one to suit your taste.
That's if it's to your taste at all, of course. The Yeti stood out by virtue of its distinctive styling, but the Kodiaq is more conservative, looking smaller than it really is and even appearing quite car-like from some angles. Apparently the nextgen Yeti will take the same approach when it arrives later this year, which you might say is a bit of a pity.
Far be it from us to talk of trivial stuff, but it did occur during the launch that this is a vehicle whose design is particularly sensitive to the colour you paint it. We drove one in signal red, which definitely deivided opinion; ours would be that unless you want to hide in the scenery, a bright colour helps.
Inside, the Kodiaq feels just like a Skoda should. It's beautifully put together, of course, and the dash on the SE L spec model we drove was highlighted by a very elegant, very modern touch-screen media system that looked crisp, made logical sense to use and responded promptly to inputs.
This helps make it a pleasing and entirely inoffensive place to sit, as do good, comfortable seats with a commanding view of the road ahead. Behind you, the second row can be slid far enough back to let one six-footer stretch out behind another – naturally, there'll be a push-me-pull-you sort of compromise to be made if there are people sat in the third row too, but our tester was only a fiveseater so that one's going to have to wait for another day.
What we were able to do was drop the rear seats, which is dead easy as it's just a question of pulling a lever and watching as the backs drop to click into place and sit near-flat on the fixed squabs. They left a step in the load floor on the Kodiaq we drove, but once you've played about with the seven-seat options and/or the various cargo handling accessories on offer, there's no reason to fear being stuck with one like that.
Our Kodiaq had the 1.4 TSI engine, in 150bhp form and mated to a manual gearbox. Yes, a 4×4 with a 1.4-litre petrol engine… last time we came across one of those, it was an old-generation Dacia Duster from the early nineties.
Happily, the Kodiaq bears no resemblence to that sad shed of a thing. The engine is brisk and full of torquem the gearbox is a picture of smoothess and the overall standard of handling and, in particular, ride shows none of the harshness that's blotted Skoda's copybook in the past. It doesn't exactly reflect well on how much attention we were paying, but at the end of the launch route we remarked that we had barely noticed what the Kodiaq was like to drive – a sure sign of a car with no vices.
The petrol engine is not to be feared, and if you value serenity you'll fi nd it quieter than the 2.0 TDI diesel we had a quick spin in afterwards. Both are very acceptable, however.
What the launch route didn't include was any off-tarmac work worthy of the name (even though we were tantalisingly close to Salisbury Plain, which was a bit frustrating). So that too will have to wait for another day – however with Off-road mode available as part of the Drive Mode Select option on 4×4 models, we fully expect the Kodiaq to be as capable as mechanically similar machines like the new VW Tiguan – which has previously impressed us in genuinely difficult conditions.
As it is, the pictures on these pages make it clear that Skoda is marketing the Kodiaq as a vehicle for people who want to keep going after the road ends. Within reason, we expect it to excel at that – it's clearly not for hardcore mudplugging, and you wouldn't want to cane it through clawing thorns, but on the sort of known-quantity rough tracks that make up almost all the off-roading people do in the real world, it has the makings of a true do-anything family holdall.