Hils Everitt – Editor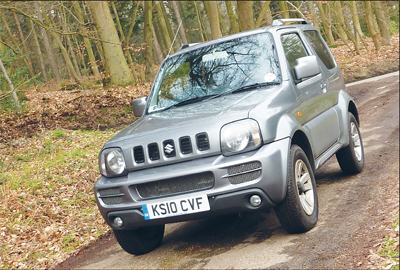 In this cold weather we've experienced – although by the time you read this we are probably in the first flushes of spring, the snowdrops and crocuses are making a valiant effort and the daff shoots are poking their heads above the thawed earth – a car heater is one of those luxuries you just can't do without.
I admire contribs Toby Savage and Bob Cooke and all those other mad people in their classic Jeeps enjoying the bracing, fresh air, but give me a good, powerful and effective heater any day.
And that's another way in which I can sing our long-term Jimny's praises. Ok, so, yes, it's a small 4×4 so not so much area to heat up, but boy when you get that little 1.3-litre fired up, the heater's on full blast at top temp, it really is toasty in no time. So toasty, in fact, that I always end up overdoing it and have to turn it down quickly to avoid a really hot flush.
Suzuki Jimny
Spec: SZ4 manual petrol
Mileage: 3777
MPG: 36
Recent costs: fuel
Arrived: August 2010
You can read more about this Jimny in the April 2011 issue of 4×4 Magazine