Hils Everitt – editor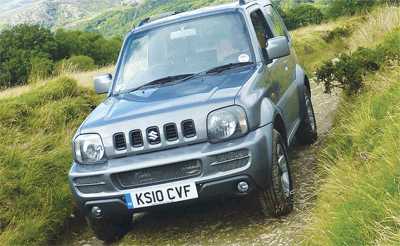 Our Jimny has clocked up plenty of road miles on various trips to magazine shoots. One was up to Derbyshire to meet a 4×4 on the opposite end of the scale – Bowler's new Nemesis EXR, see last month's issue – then a trip to north Wales, to hook up with contributors Wayne in his Defender Td5 90 and Toby in his 1945 Jeep, was a real test of its on-road mettle.
Plenty has been said in the past about Suzuki's rather under-damped suspension and lack of steering feedback, but it is a budget 4×4 and has excellent off-road credentials so it will never receive too much criticism in our books Cruising on the motorway you feel okay until the bad weather sets in and you have to share the tarmac with huge lorries. On the way back from one job in the dark, the heavens opened, the wind whipped up to a frenzy on the M40 and it was hellish every time me and the little grey SZ4 overtook a container lorry. This is where you really have to cling on as the Jimny is swept aside by the force of the lorries and the visibility is pretty awful which doesn't really induce a feeling of total safety.
But we made it in one piece, and, not deterred, ventured to Wales to meet the guys for some challenging green-laning. We were hoping for a tricky bit of rock crawling on a lane that Wayne recommended, but it has since been graded. The track, however, still offered up some rocky ground and awkward steps which the Suzuki's very nimble suspension coped with admirably. Its low box is excellent combined with the 1.3-litre petrol engine and the whole off-roading day was a great success, with no holds barred… well, it did bottom out once on a rock – that is its only problem; slightly better ground clearance and it would be awesome. Just a little lift would make it almost perfect – a diesel option would sort that…
SPECS
Make: Suzuki Jimny
Model: SZ4 manual petrol
Mileage: 2708
MPG: 36.2
Recent costs: Loads of petrol
Arrived: Aug '10