Hils Everitt – editor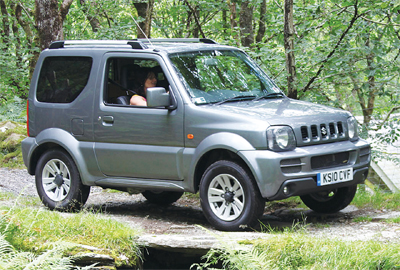 As you'll see from our UK adventure on p48 when our brilliant little Jimny took on the mighty 1940s Ford Jeep in glorious Snowdonia, the Suzuki long-termer equipped itself extremely well on the rocky lanes, some of them really quite tricky in places. To receive the nod of approval from Toby, a veteran of off-roader and staunch Land Rover/Jeep fan, is a true accolade for the Jimny.
The Jimny enjoys a superb heritage. I, in fact, learnt to drive off-road years ago in a Suzuki SJ – now that was a top vehicle and you still see them buzzing around off-road driving days, many with lifted suspension, body mods and winches attached. They are superb off-road and the Jimny is not a bad successor.
Spec
Model: SZ4 manual petrol
Mileage: 3777
MPG: 36
Recent costs: none
Arrived: August 2010
You can read more about this Jimny in the March 2011 issue of 4×4 Magazine