Hils Everitt – editor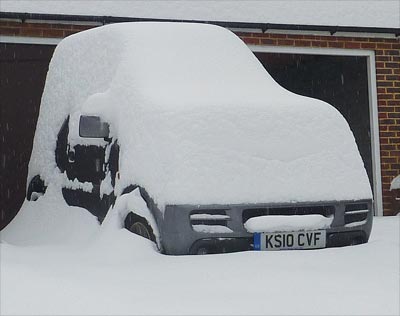 As you can see from the picture right, our diminutive little Suzuki almost completely disappeared in the heaviest snowfall I have ever seen in my corner of West Kent.
Unlike my own Jeep Grand Cherokee, the Jimny didn't have the benefit of a roof over its head during the severe winter weather and so had to put up with a very deep layer of snow sitting on it. As it was such an effort to clear off all that snow the Jeep got more use. I also preferred the Grand as its engine breaking is far superior from the 2.7-litre diesel than the Jimny's 1.3-litre petrol engine. There area lot of steep, slippery hills to negotiate around here and I didn't want to put anything at all to chance as I weaved and crept around all the abandoned saloon cars which really shouldn't have been on the roads.
SPECS
Make: Suzuki Jimny
Model: SZ4 manual petrol
Mileage: 3777
MPG: 36
Recent costs: none
Arrived: August 2010
You can read more about this Suzuki in the February 2011 issue of 4×4 Magazine – back issues available here