Hils Everitt – editor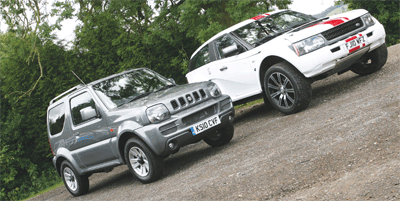 It's been a while since the magazine welcomed a small 'budget' 4×4 onto the fleet. The last time was several years ago when we had a project Suzuki SJ that had been treated to a suspension lift and prepped for plenty of off-roading trips. That rather basic and nightmare-to-drive member of the team did spend rather a lot of time in its Croydon lock-up, mainly because nobody wanted to drive it anywhere! It was great once the tarmac was left far behind, but, boy, on that tarmac it was hellish. I only had to drive it a short distance once and have never been so delighted to switch off the ignition and fall out of the dreadfully uncomfortable seat and get rid of the buzzing in my ears.
I do have a certain fondness for diminutive 4x4s. Perhaps it's because I am on the short side and everyone always says: 'Hey Hils, that really suits you; your sort of vehicle!' Well, yeah, it is but I do also like our big trucks, even if I may look a little bizarre driving them.
So, when Suzuki agreed to give us a smart little Jimny for a long-term loan I was suitably excited about buzzing around in a great little off-roader – one that still gives you real lowrange gearing, has old-fashioned beam axles all-round for the rough stuff and that just makes me smile when I drive it. Okay, it's not the best looking and has a rather boxy exterior style, the on-road ride is typically Suzuki-jiggly and the steering is more vague than Paris Hilton, but when you're driving, you just can't help smiling.
Our Graphite Grey Metallic Jimny – bit disappointed that we haven't got one of those funky two-tone models – comes in SZ4 spec which means you get part-leather velour seats over the SZ3. The spec list for that is not that much to write home about, as there's no MP3 compatibility, but you do get decent air-con and, don't forget… the price tag is a highly desirable £11,495. The base manual transmission SZ3 comes in at a fiver under £11,000, so with a pukka 4WD system that we expect to impress us, you can't really moan. It'll turn on a sixpence, is fantastic for parking in just about any tiny space that's on offer and should do us proud when we venture off the road – more of that next month.
Since it arrived it has well and truly ousted my Grand Cherokee – the latest on that ongoing saga next month also – which has remained in its garage out of the rain and resting while the Jimny has burned up some serious motorway miles on magazine jobs to Derbyshire, Warwickshire and north Wales. Ever since it arrived I've noticed so many of them on the road – they're like Citroen Berlingo vans! – and yes, we do all wave at each other with a big smiles on our faces as we bounce along the highways.
That's not to say there's insufficient punch in this little baby. The 1.3-litre engine is a racy little petrolhead once up in top gear and cruising. Of course, you aren't going to impress anyone off the lights, but I did, purely for research purposes and to test what it really can do, push the throttle to an easy peasy 90mph at one point.
That was fun but only lasted a minute for the test, but our Jimny will sit happily at the national speed limit and a bit beyond without a hiccup, although more of that later. Contributor Kev Baldwin and I drove to Bowler's HQ in Derbyshire (see our preview of the Nemesis EXR on p66) where the Jimny took a photocall against the new mighty, road-legal Bowler that has now gone to the top of my 4×4 wish-list for when I win the lottery. We had the most expensive 4×4 production vehicle next to the least expensive 4×4, and they looked a fine pair.
Yep, I'd have both if that lottery ticket came up. Why not? You've got the best of both worlds and the extremes of the 4×4 spectrum. The Jimny is fun (well, unless you're Kev at 6'5", although his knees weren't right up to his chin on our trip up north). The seat adjustment is pretty good, actually, and there was still room for our luggage at full stretch – far better than my Mazda MX5 which he pleaded for me to take – now he really would have struggled in that for 200-odd miles! And negotiating the Bowler fields would have been a very big mistake. The Jimny breezed through it… and its subsequent off-road ventures. Watch this space…
SPECS
Make: Suzuki Jimny
Model: SZ4 manual petrol
Mileage: 2071
MPG: 36.2
Recent costs: plenty of petrol on mag jobs
Arrived: Aug '10