Hils Everitt – editor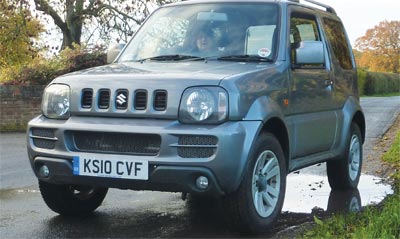 Our Jimny continues to clock up the miles and has been enjoying lots of smiles and generally positive comments from all who come across our cute little silver machine. It has only ventured off-road once or twice and we hope to get out and about a bit more before Suzuki demands it back, but, in the meantime, on the road it has provided good consumption figures for lots of motorway miles and been a life saver when my Grand Cherokee has been off the road.
I was sitting in the hairdressers recently been tousled by Dan who, on my recommendation, bought a VW Tiguan for transporting his new young family, and he is always interested in what 4×4 I have sitting on my driveway.
"So you've got a Jimny, bit of a comedown from the Range Rover Sport I saw the other week," he said taking the mickey somewhat.
I got rather offended and staunchly defended my little Jimny adding: "Do you know it's celebrating 40 years this year?" Now that's some achievement and it's still selling well. You see them everywhere.
"Really?" He replied in astonishment. "Have to say, my dad had a Suzuki SJ413 which was hilarious when I was a kid. Are they really any better on the road?" he laughed.
I proceeded to tell him, yes, of course. Okay, so the steering is still on the vague side and you will get thrown around a bit by Artics on the motorway, but it has improved and is a comfy fun little 4×4 that will impress off the road when it gets the chance. Sadly, not often enough for most; such a waste of a darn good low-range gearbox.
"People are still modifying them for off-roading, like the SJ410 And 413s ou remember," I added, further upping my Jimny commendation. He stopped taking the mick for a while and nodded quietly and finally got on with chopping my hair which was rapidly drying. Am gonna have to take him for a spin so he can really see how fun it is – just like his old SJ, just a bit more comfy in those comfy part-leather seats and with the very welcome power steering!
SPECS
Make: Suzuki Jimny
Model: SZ4 manual petrol
Mileage: 2708
MPG: 36.2
Recent costs: Loads of petrol
Arrived: Aug '10