Hils Everitt – Editor at Large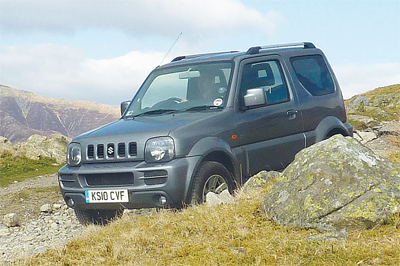 So it is with heavy heart and a tiny tear in the eye that I say a fond farewell to the little Suzuki Jimny SZ4. The Jimny and I established a great bond between us over the last eight months and I am already really missing its under-damped suspension and bouncy ride that never failed to make me smile.
It's been off-road a few times, for example on a lovely greenlane in the Shropshire hills with Toby Savage's gorgeous Ford Willys Jeep and solo in the stunning Lake District, as well as strutting its stuff alongside the immense Bowler Nemesis last summer.
As one of a steadily decreasing breed of budget 4x4s left in the world that offer true low-range gearing and impressive off-road ability – give or take the odd ground clearance issue – it still ranks high on our 'we like' list. You really can have some proper off-road fun in it, as I have amply discovered during its time with the magazine.
Of course, it's not perfect. I don't like the expanse of grey plastic in the load area that so easily scratches. The Jimny has carried my huge stash of sports team kit around the south east with no space issues, but no matter how careful I've tried to be, some scarring of the interior has been unavoidable.
But, for a small 4×4, it has a surprisingly good carrying capacity with the rear seats down. I think this is the best way to view it – rather than as a vehicle for carrying four passengers, unless they are very small adults or kids. That said, I have squeezed a six-feet-tall, 18-stones-of-pure-muscle, front row rugby player in the back – getting him out again was hilarious, but we provedit could be done!
Suzuki Jimny
Spec: SZ4 manual petrol
Mileage: 5642
MPG: 36
Recent costs: None
Arrived: August 2010
You can read more about this Jimny in the July 2011 issue of 4×4 Magazine.