Hils Everitt – Editor at Large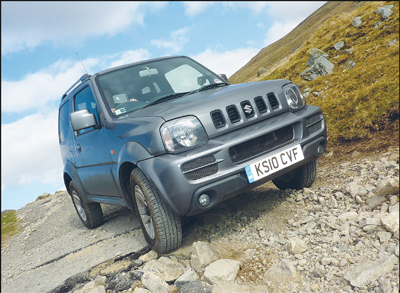 As the Jimny was about to be whisked away back to Suzuki, I thought it was time to sneak in a trip to the Lake District for some quality walking and a bit of green lane driving, as it hadn't been off tarmac for some while. Playing about in the snow a few months ago was all very well, but I wanted some scenic pics of it and get that low 'box working for one last time before it left for good.
The five-and-a-half-hour drive from Kent to the Keswick area was a pretty uneventful affair as I took the M11/A1 route then A66 from Scotch Corner. I always use this way as the drive west along the A66 is far more pleasant than the traffic jam that would be the M25 if I opted for the M40/M6 alternative.
The 1.3-litre petrol purred away happily over the 250 miles and the ride over the excellent surface of the majority of the A1 meant the rather under-damped nature of the Jimny 's suspension wasn't a real irritation.
Before arriving at the south shore of Derwentwater at the hotel, we nipped off onto a favourite track of mine – the 'Old Coach Road'. It had been some while since the mag had been there when we took a trio of two Jeeps and a Defender 90 along it for the day. This route is an easy track, but there are the odd, tricky little obstacles.
Suzuki Jimny
Spec: SZ4 manual petrol
Mileage: 5930
MPG: 36.4
Recent costs: Petrol
Arrived: August 2010
You can read more about this Jimny in the June 2011 issue of 4×4 Magazine.