Nigel Fryatt, Editor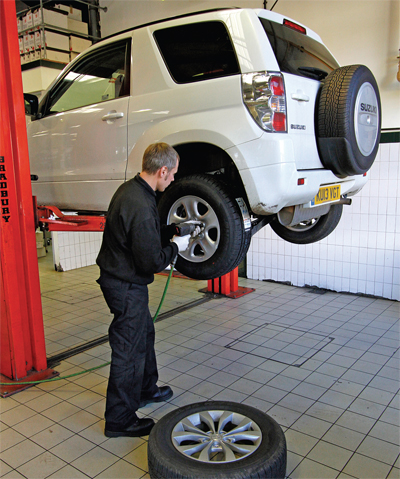 It was somewhat appropriate that I drove our Toyota RAV4 to the dealer on what was obviously the coldest day of the winter so far. The temperature gauge actually said 2degC, but standing scrapping the ice from the windscreen, it certainly seemed a lot colder than that.
The journey to Toyota main dealer, Jemca, near Croydon was to have a set of winter tyres fitted to Sue's RAV4, taking up the opportunity to test the manufacturer's recommended options from Yokohama, the 'W drive' tyre, in 235/60 16. To be honest, this had not been our first choice as we had considered using winter tyres from either Pirelli or General Tire. We have had direct experience of the Pirelli Scorpion Verde, an excellent option, which made that first choice, the other option was that maybe General's new Snow Grabber winter tyre would also be worth trying. Surprisingly, would you believe, neither are available in the UK in the 235/60 16 size suitable for (one of the most prolific SUVs in the UK) the Toyota RAV4! Odd, you have to admit. This problem was not going to put us off, however, and it led us to contact Toyota to find that the 'official' tyre choice for the company's dealers is the Yokohama option.
It's always good to visit Jemca Toyota at Croydon, they are all such a friendly and helpful bunch. The other good news from service manager Paul Sewell is that winter tyres are proving more popular this year: "We just didn't sell any last year, despite having ordered a lot in. This year we are continually getting asked about winter tyres, and fitting quite a few." Indeed it's all types of vehicle as well, while we were there we saw a set of tyres for a Lexus that were ultra low profile, the sidewall seemed 'oh-so-small' but for that owner, the winter option was what he wanted! The bonus at Jemca Croydon is that they have the space to store your 'summer' tyres as well, so our General UHP tyres are now safely stored away until next spring.

You can read more about this story in the January 2014 issue of 4×4 Magazine – available here