Bob Cooke – contributor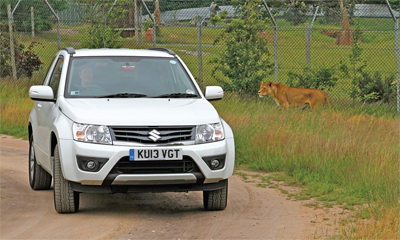 Our Suzuki went off-road with some lions this month. No, honestly, it did! As you can read elsewhere in the issue, we visited the West Midland Safari Park to check out their fleet of 'rhino-nudging' Land Rovers. The Park has introduced an 'off-road' drive through in the Lion enclosure. To be fair, 'off-tarmac and on to loose gravel' is more accurate, but it does at least mean that there is an alternative route to go lion spotting. Talking some pictures for the feature (safely enclosed in Safari Park boss Bob Lawrence's Discovery, I might add) it was amusing to watch the lion take an interest in our Mighty Mouse Grand Vitara. The park is a great place to visit, don't expect a great off-road challenge, just enjoy the animals – always great from inside a 4×4 somehow. You can also buy some food to feed some of the animals on the drive – no, stupid, not the lions! Which makes for a good laugh – as long as you don't mind a touch of antelope slobber inside the vehicle (sorry, Suzuki, we will clean it up).
This was actually the first proper journey that we had completed in our new Long Term test Grand Vitara. As we said last issue, the little Suzuki's big 2.4-litre petrol engine is a very tempting proposition and you do tend to use it to the full; the three door version making this a sprightly option. It's no surprise, therefore, that our first mpg figure fails to break into the 30mpg mark, hitting just 29.56mpg. You don't have this Grand Vitara for its fuel economy, at least not in the three-door option (diesel is not available in the short wheelbase Grand) but you do drive it for fun.
Not helping the fuel consumption of late was the drive to Chester and back to get behind the wheel of the new Swift 4×4 (see page 21). Mostly motorway, but on the return trip it involved spending two hours covering about 15 miles of the M25 in the heatwave we had in July, resulting in having the air conditioning on full blast. Fuel is something of an issue in that the Grand Vitara three-door's tank is relatively small at 55-litre (just over 12 gallons). At the consumption we are experiencing, that gives a limited range of under 300 miles, which means you visit the garage for fuel more often, but at least when you are there you cannot spend that much filling it up!
SPEC
Spec: 3-door SZ4
Mileage: 2929
MPG: 29.56mpg
Costs: None
Arrived: July 2013

You can read more about this Jeep in the October 2013 issue of 4×4 Magazine – available here