Nigel Fryatt – editor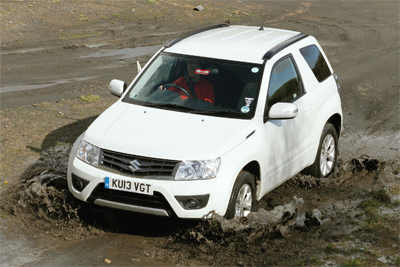 When Suzuki's small, three-door Grand Vitara arrived at the magazine, I did wonder if it would actually impress. It was effectively replacing my tough, black Toyota Hilux – as 'macho' a truck as you can find on and off the road; the Vitara certainly had a softer appearance. Despite this, it fitted the bill, being one of the few remaining 'soft-roaders' that actually has a low range gearbox, which certainly increases its capabilities.
Ours was the three-door SZ4 model, powered by the 2.4-litre petrol engine. That makes a lot of engine in what is actually a small SUV. Interestingly, Suzuki sells equal quantities of three and five door Grand Vitaras here, and this despite the fact that the three door does not come to the UK with a diesel option. It has to be the largest engined small off-roader available and the high revving 164bhp unit certainly entertained. The 16v unit is not particularly well equipped in the torque department, but does offer 225Nm (166lb ft). The engine is a peach of a unit really, free revving and gives the Suzuki more of a 'hot hatch' than SUV on-road characteristics. Helped by the relatively short wheelbase of the three-door, the stubby Suzuki does not roll and wallow when driven quickly, and can be hustled along. The downside is, of course, that despite weighing only 1830kg the thing does drink fuel with equal enthusiasm; we struggled to average 30mph, and that's emphasised by a surprisingly small 55-litre fuel tank (around 12 gallons). I suppose it does mean that as we never let the tank run 'into the red' for fear of running out, at least we could only get 50 quid's worth of fuel in there at each top up! Indeed, the fuel economy confuses the vehicle's computer, which estimates how many miles you have remaining – we 'ran out' on numerous occasions, once in a dreadful traffic jam on the M25 – yet always managed to drive when 'the computer says empty'.
We completed just under 10,000 miles in the Suzuki, and the mighty little vehicle was faultless for that entire time. Obviously we cannot predict what the future holds for KU13 VGT, but all indications are that it will offer someone trouble-free motoring. We can also assure any future owners that it was not bashed and battered off-road. To be honest, we were particularly careful with this since despite having the low range option, and decent front and rear departure angles of 29 and 32 deg respectively, the Vitara's limited ground clearance did encourage caution. In particular, it was always felt that the rear exhaust silencer box looked particularly vulnerable. It's a bloody great thing running across the rear and certainly exposed, but we managed to avoid denting it.
SPEC
Spec: 3-door SZ4
Mileage: 9487
MPG: 29.56mpg
Costs: First service, and minor dent repaired…
Arrived: July 2013

You can read more about this story in the September 2014 issue of 4×4 Magazine – available here