Nigel Fryatt – editor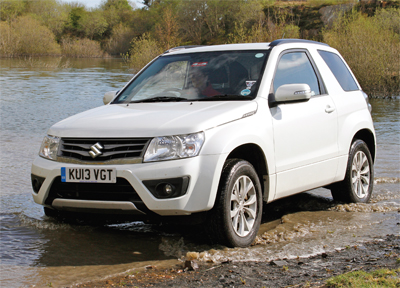 EVEN the most cautious and careful driver can have an 'incident' when driving off-road. It's one of those activities that you shouldn't do, if you are not prepared for the consequences that might involve some damaged metal (or plastic), since it's not always just your pride that gets dented.
That would be a good way of introducing, or indeed excusing, the dent that now appears on the Suzuki's front bumper. I could regale you with stories of derring-do, on how the little Suzuki had been ploughing through the rough stuff, embarrassing vehicles more suited to serious mud-plugging, when one of those nasty mobile rocks 'jumped out' in front of me and caught the valance. I could say that, if it was true. Sadly, I have to admit that the damage was done… in a car park. Now it was the muddy, slippery car park at a small wildlife nature reserve somewhere in Surrey, and not a tarmac covered Tesco's car park, but that still doesn't quite excuse it.
Stupid thing was, when I drove in and parked I noticed the small wooden fence, less than a foot high, low down on the passenger's side. It would be easy to miss that I thought to myself. Of course, some time later when I came to reverse out of the space, putting the wheel to full lock and looking over my shoulder to see all was clear behind and easing back, the resulting graunching noise told me that, basically, I was an idiot.
SPEC
Spec: 3-door SZ4
Mileage: 9487
MPG: 29.56mpg
Costs: First service, and minor dent repaired…
Arrived: July 2013

You can read more about this story in the July 2014 issue of 4×4 Magazine – available here