Bob Cooke – contributor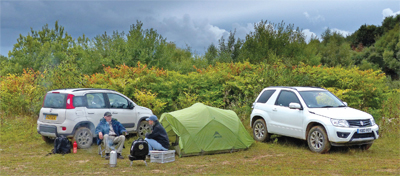 I felt a bit nervous about taking the Grand Vitara off the tarmac. On the one hand the little Suzuki in its previous incarnations has an almost legendary reputation as a serious high-fun off-roader, on the other is the feeling that the current model is just too much of a tarmac-oriented highway cruiser to warrant taking it on anything more off-road than a well-maintained gravel track. There are two conflicting aspects of the latest version. The publicity material trumpets the permanent four wheel drive transmission with centre diff lock and low range as endowing the Grand Vitara with exceptional off-road agility, yet the tape measure shows little more than 180mm of ground clearance, and the exhaust back box seems scarily vulnerable hanging under the back bumper a mere 240mm above ground. While it's true that the Grand's excellent departure angle is such that on a flat and level rise the rear bumper would touch down before the silencer did, but since most off-road trails are rutted I'd be wary of taking it anywhere near its theoretical capability.
Nevertheless, I had a rendezvous at a seriously off-road destination so there was nothing for it but to trust to some delicate driving to reach our proposed campsite.
Mind you, I had an 80-mile highway drive to get to the off-road location, and I had no reservations about the Grand Vitara's abilities on the tarmac. My first impressions were that in spite of its smooth, aerodynamic appearance it's still a little rough around some of its mechanical edges. The very eager response to the accelerator, added to a little bit more transmission shunt than I'd expected, made it difficult to make gentle getaways, and once on the move the gearshift seemed a little chunkier than it needed to be. But those feelings lasted only until that seat-of-the-pants feeling aroused my suspicions that there was another paradox involved – the three-door Grand, for all its luxury leather, air conditioning, privacy glass and other upper middle class family estate pretensions, is actually a boy-racer hot hatch at heart.
SPEC
Spec: 3-door SZ4
Mileage: 2929
MPG: 29.56mpg
Costs: None
Arrived: July 2013

You can read more about this story in the December 2013 issue of 4×4 Magazine – available here