Louise Limb – contributor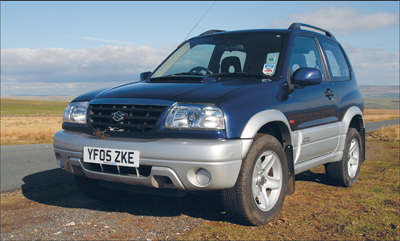 Mindful of last month's comparison between my neat, short wheelbase Grand Vitara and an all too compact wood based storage solution, I was beginning to become quite paranoid about the utility aspect of my SUV, the 3Door GV having neither the off road respect that the Jimny has earned nor the sturdy pantechnicon-like usefulness of the long wheelbase version.
That was until the other day, when a small boy on his way home from school in leafy Ilkley pointed at the chaos just visible through my open tailgate and in a stage whisper, confided in his mother, ' that car's got a big boot, hasn't it!' I felt gratified and proceeded then to embarrass all of us by replying, 'yes, it is very useful!'. They scuttled off as quickly as they could and I continued to search the jumble for a lost gilet while keeping a tight hold of my keys…
Suzuki Grand Vitara
Spec: 3dr SE 2.0L Tdi
Mileage: 52,030
MPG: 30ish–40ish depending on journey type
Recent costs: The ever escalating and scary diesel bill
Arrived: October 2008
You can read more about this Suzuki in the June 2011 issue of 4×4 Magazine.