Louise Limb – contributor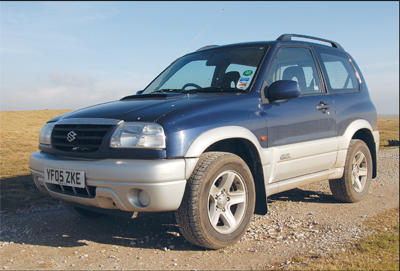 As I was writing this I put aside my fussing and fretting about whether to risk the wrath of the walkers and farmers by driving a gentle Lakeland BOAT above Windermere, to witness in absolute horror on the glowing screen in the corner, the well-built Suzukis, just like mine, being tossed in the waves of the Tsunami, that overwhelmed north eastern Japan, like little tin boxes in a biblical flood.
It's as good a reminder as any of the fragility of our highly-developed world and my thoughts, as I'm sure yours are too, are with their owners and drivers, even if, by the time this is printed, the devastation will have faded from our televisions.
I think it's my duty then to look after my Japanese-built Suzuki and remind the Land Rover set that I drive a darned good little 4×4. It really did feel quite little last week, however, when I transported what seemed initially a compact card display carousel to my studio. This new acquisition is meant to transform my exhibition stand facilities and carry plenty of greeting card stock. Well, it would if I could fit anything else in besides the carousel. Oh dear.
I then managed to tweak a muscle in my neck trying to turn around and steady the load when it slipped even before I started moving; the metal pole threatening to break a side window. When seated in the driving seat it is virtually impossible to access the rear without clambering around between the two seats with your feet resting on the steering wheel as the seat head rests are only a couple of centimetres from the door pillars.
I guess Defender Station Wagons are worse? At least I have the room in my Japanese Grand Vitara to keep my right elbow inside the vehicle when driving, even if my steed was recently described as 'a bit of a cupboard'. My dear readers, this Suzuki is definitely not a cupboard, it's more a box room. The polite, stoic Japanese would be horrified. ■
Suzuki Grand Vitara
Spec: 3dr SE 2.0L Tdi
Mileage: 50,900
MPG: 30ish–40ish depending on journey type
Recent costs: Tried to spend a big bag of money on two back tyres but advised they were still perfectly fine!
Arrived: October 2008
You can read more about this Suzuki in the May 2011 issue of 4×4 Magazine.