Louise Limb – contributor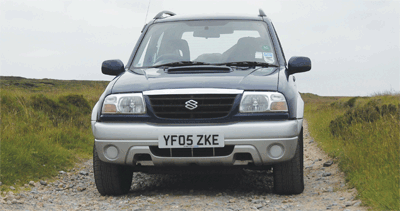 You can imagine my dismay when, flicking through what passes for my vehicle paperwork, I found that my warranty had run out. I'd just given the Suzuki main dealer over £350 to service my vehicle and their cheerfulness was annoying. Yes, it would have been covered under my warranty but don't worry, they chirped, it's not an expensive repair and we'll be kind over the man hours it will take as you're a regular'. I groaned inwardly; Barclaycard's well-spoken, if slightly stilted, automaton would be on the phone again just checking that yet another three-figure purchase on my account was really mine.
A tiny plastic loop on the Grand Vitara's power valve had snapped and the guys would have to dive head first behind the intercooler to replace the whole unit. Without this part, the engine can't relay what you do with your right foot to a command to open 12 or 16 valves and give the right revs for each situation. This explained why the Vitara was either flying down the straight like a dragster or pulling uphill like an asthmatic buffalo.
You'd be daft to take the vacuum-actuated device apart to get at the butterfly valve within, just in case the actual valve has broken; it's awkward (and therefore time consuming) to reach this particular, and very important, element in the engine management system. Consequently, they just order and replace the whole thing. I was shocked, firstly that a small loop of plastic on the end of a metal rod could play such an important role in fuel economy and engine power and, secondly, that Suzuki had considered what looked like ordinary plastic an appropriate material of which to make something which busies itself right next to a very hot engine.
An hour or so of messing about, which took in removing the big intercooler and getting right in under the EGR (Exhaust Gas Recirculator) and the job was complete. The strangest thing was that the GV next to mine was in for the same repair and another was booked the following week, all three being different ages and having different mileages. Chief technician, Phil, thought it might be the massive swings in air temperature lately; hot sun one minute, cold north easterlies the next. The theory would be worth checking out up and down the country.
SPECS
Model: Suzuki Grand Vitara
Spec: 2.0 Td
Mileage: 42,500
MPG: 32mpg
Recent costs: Replacing power valve – £105 (the part cost £23.37 plus VAT but you'd need a lot of skill and patience to do the job)
Arrived: Oct '08