Louise Limb – contributor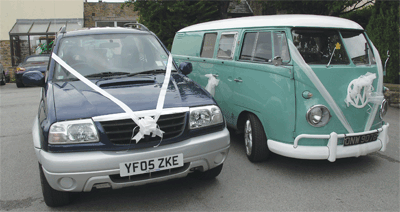 Let's face it, the best of the off-road Suzukis, the Jimny, would not have managed to transport adequately all the posh people and polite luggage that my Grand Vitara has been required to do in the last couple of busy weeks. Dressed in her finest white ribbons, my Grand served as wedding transport for parents of the bride (husband and self, handling the well-placed pedals perfectly in a nice pair of cream high heels), along with a heap of assorted bridal dress covers, shoes, hatboxes, floral arrangements and other people's luggage – all was accomplished easily with the back seats down and no damage to anyone's bits and pieces. One look in the boot space of other, inferior cars revealed a squash of satin and suitcases, followed by requests to 'please, possibly, fit this or that in the back of your 4×4'. Hah! Not just useful in snow then…?
When it came to the inevitable giving of lifts, however, the Grand Vitara was less accommodating. The job requires a modicum of agility on my part, clambering first into the rear to extract the seat backs from their hidey hole. Then I wriggle in behind the passenger side to reach the seat bases while making sure the seatbelts are not snagged anywhere. My passengers may be outside getting wet while this happens. If there's only one extra body to go in the back, my advice is to erect the seat behind the front passenger, otherwise you have to move the driver's seat. If the latter happens, as it did when someone else got involved over the wedding weekend and put a back seat driver in behind me, I get very cross, fiddling about until my driving position is somewhere near correct again. As for luggage, we all travel with just a hanky; it stays at home; or if there's one extra in the back, they can prop it up beside them with their free hand.
I am now relieved to be trundling alone again, with only my worn tyres and funny drivetrain noises for company.
SPECS
Model: Suzuki Grand Vitara
Spec: 2.0 Td
Mileage: 42,824
MPG: 31mpg
Recent costs: a few quid for wedding ribbon and diesel
Arrived: Oct '08