Louise Limb – contributor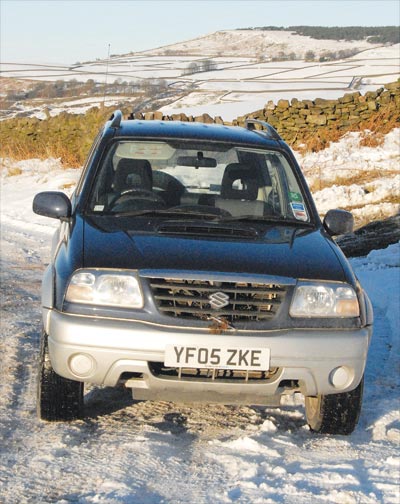 What is it with these Jimnys? After the ignominy of having motorway spray kicked in my face by last month's diminutive, aquaplaning Suzuki, the bobtailed Jimny I was overtaken by this month could easily have been driven by the Jack Russell on the passenger's knee for all the respect it was showing the steep, snow-slithery Pennine lane my Grand Vitara was lumbering up in four high. A wee bit too much on the gas and the little Suzuki went into a bit of a shimmy on the salty slush. I thanked the God of tarmac and dirt that there was nothing coming the other way. The Jack Russell's guardians were having snow fun in the arctic sun and, with similar disregard for the edge of the snow-hidden tarmac, they took off up the embankment, rounded an innocent Rowan tree a few times and stopped for a quick photo call before heading off back down toward Silsden, the Jimny wagging its tail like an eager pup.
Like someone's grandma, I tutted a bit over the mess they'd made of the virgin snow, and probably the ground beneath, but was a bit jealous of their childish glee at the things they could do with a well prepped, externally roll-caged Jimny.
SPECS
Make: Suzuki Grand Vitara
Model: 3dr SE 2.0L Td
Mileage: 48,500
MPG: 29 – in 4WD a lot
Recent costs: two new tyres £245
Arrived: October 2008
You can read more about this Suzuki in the February 2011 issue of 4×4 Magazine