Louise Limb – contributor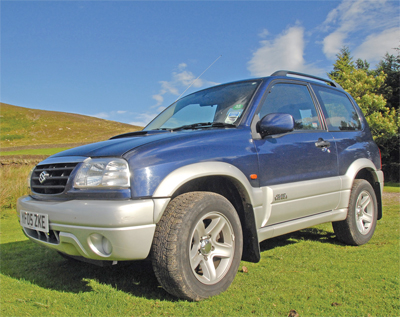 Recently, a 4×4 mate who hadn't seen me in a while exclaimed as I drew up at his garage after a sedate blast down the M1; 'blimey, you've had that Grand Vitara forever!' It hasn't seemed quite that long but as October fast approaches and I near the five-year mark in my caretakership I realise I've driven nearly 60,000 miles in the old girl. Now by comparison, the chap I was talking to had put 375,000 miles on his petrol (yes, petrol!) engined Land Rover Series III in the 30 years he's been taking care of it, so my 60K over five years seem a little paltry, but even diesel Suzukis with heavy duty gearboxes can wear, and this plucky short wheelbase truck is still my daily driver, one tyre change, one cam and timing belt change and lots of servicing later.
One of the main requirements of my daily runabout is efficiency. Eschewing the stop-go journey through Bradford, with the attendant as yet unidentified clunking I hear from the rear every time I come to rest and set off in traffic, I like to take the back roads and where I live that means hills and lots of them. I started to notice a month ago I was changing down a good deal more often than previously until last week when I decided I'd better do something after found myself in first gear, ascending a 25 per cent hill with all the get up and go of an asthmatic sloth. My revs were somewhere subterranean and I was practically going backwards.
SPEC
Year of manufacture: 2005
Arrived: Oct 2008
Mileage: 76,388
MPG: 36-40
Recent costs: £239 – see text

You can read more about this Jeep in the November 2013 issue of 4×4 Magazine – available here