Louise Limb – contributor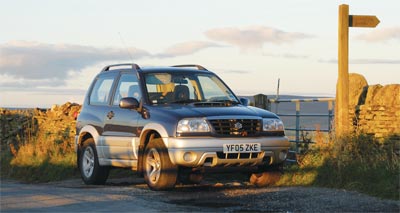 So, two years and 30,000 miles into ownership and my second encounter with the man at the MoT test centre came and went without the slightest hitch. A hint of a slapped wrist over the tyres, and even then it was only an 'advisory', but there appeared to be nothing more dreadfully amiss than a few bodywork scuffs, an increasingly tatty-looking interior and a completely clean bill of health from the steering wheel down. Of course, I was sceptical and eyed the document carefully, thinking that I, or more worryingly, they, had missed something. The noises, the vibration, the oddness on turning corners; where were these cataclysmic faults in the drivetrain and steering?
As usual, it seemed I was panicking over nothing. I am told that my particular example of a late, three-door Grand Vitara, powered by a more than adequate 2.0-litre turbodiesel, (courtesy of Messrs Peugeot), is fast turning out to be like Baby Bear's bed; really quite okay for a Grand. Were this the five-door version I might be less impressed as the torquey agility with which it clambers – if noisily – up any steep road you care to throw at it would be a little more, umm, challenged.
With this in mind, I took the GV on a bit of jaunt to the Stafford Classic Bike show. I also took enough stock to last a weekend, a till, banners, hand truck, stepladders, indeed everything necessary for a natty art show bar the display boards as they'd be too long for the loadspace, my husband and all our luggage for the weekend. I thought perhaps I might have had to invest in roof bars and a bag to fit, but, amazingly, it all slotted in quite well, including my other half, who didn't need to carry the luggage on his knees despite my worst fears. Zooming down the M6 using my wing mirrors only made me feel like I was part of the freight convoy, but the Grand seemed unaware that it was completely laden. Transporting the same volume of paving slabs may have been a different story.
By next month I'll have covered another 1500 or so miles to Land's End and back, and may indeed have finally had to replace the world's hardest wearing front tyres. As for the ongoing noises and peculiarities, I guess, like the Native Americans putting their ears to the ground and hearing hooves many miles distant, I am picking up what may become problems a little further down the road. For now, I should try to relax and treasure what's still in the piggy bank.
SPECS
Model: Suzuki Grand Vitara
Spec: 2.0 Td
Mileage: 46,500
MPG: 32
Recent costs: The ever rising cost of diesel, MoT £39
Arrived: Oct '08