Louise Limb – contributor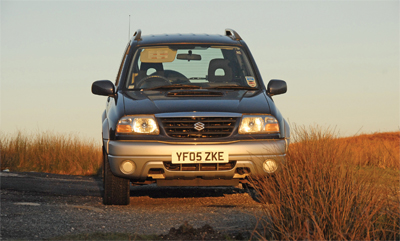 It's been a few months since the Mass Air Flow meter was replaced (at considerable cost) and after no improvement in performance, my friendly mechanic Phil went back beneath the bonnet and tightened the throttle cable – there's a locking nut at the engine end, as it felt slack. The result was immediate (and cost nothing as Phil's one of the good guys). Once again my wheels could tackle hills with the confidence of a mountain goat. Nearly six months on and a couple of fully loaded trips to shows, the Grand Vitara is running as well as ever, though there's been a recent slight drop off in power again, requiring lots of gear changing. When Phil's back from his holiday in the Caribbean (vehicle maintenance people, like hairdressers, will never be short of work) he can see if it's slackened off and do whatever's necessary.
More concerning than the business of propulsion is that of stopping; of late, the Grand Vitara slews, rather than nips smartly to a halt, despite the fact that I'm almost always braking from a fairly low gear. This could be the brakes or it may also be the tyres. Reminder to self; check the air pressures tomorrow. Despite getting the local tyre place to supplement the Bridgestones with nitrogen to keep 'em afloat, the increasingly leaky alloys means the tyres are deflating quite alarmingly. There must be a more permanent solution that stops short of having to buy a whole new set of wheels?
SPEC
Year of manufacture: 2005
Arrived: Oct 2008
Mileage: 76,388
MPG: 36-40
Recent costs: £35 MoT

You can read more about this Suzuki in the May 2014 issue of 4×4 Magazine – available here