Bob Cooke – contributor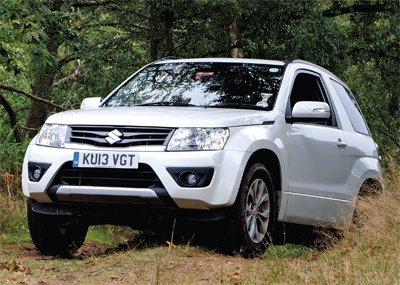 It wasn't all that long ago that the name 'rhino' was pretty much synonymous with 'Suzuki' – the all-conquering little SJ made the rhino symbol its own, a fitting reference to the little Suzuki's rugged and adventurous nature. It seemed fitting, therefore, that we should involve our long-term Grand Vitara in a more recent rhino-related event, a tough off-road challenge aimed at raising money for conservation projects in Africa.
The British Rhino Charge event traditionally includes some quite daunting off-road obstacles, and bearing in mind the limited ground clearance and unblemished body panels of our luxury-spec SZ4, there's no way we'd have gone anywhere near the action had it not been for a decision to run a softer-road Safari Trail event alongside the main action. That idea was a good one – although most entrants tackle the event in rugged and sometimes heavily modified vehicles, there are many of us who are concerned enough about the fate of African rhinos to want to take part, but all we have to do it in might be the school-run Nissan Qashqai… or, in our case, the definitely low-riding road-biased 2.4-litre SZ4.
As it happened, many of the cars that entered the Safari run were more than capable off-roaders even in standard form, with Land Rover products well represented – Nick Edsor turned out in his Land Rover 110, Scott Thompson drove round in his 90, Alistair Cole drew a few envious glances in his G4 Range Rover Sport, Shane Whiffen had a Discovery 4, Jason Heath a Range Rover and Guy Tritton a Discovery V8 – albeit one that he'd borrowed from the event's organiser, John Bowden, of Land Rover specialists Gumtree 4×4. Sunny Singh went round in a Nissan Navara and Michelle Clark entered her gleaming white Jeep Wrangler – which might explain why we felt a bit sheepish joining the convoy in our little Grand Vitara.
SPEC
Spec: 3-door SZ4
Mileage: 2929
MPG: 29.56mpg
Costs: None
Arrived: July 2013

You can read more about this story in the January 2014 issue of 4×4 Magazine – available here