Louise Limb – contributor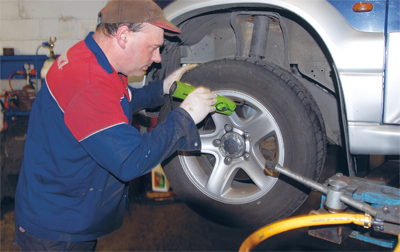 It's fair to say that more than just a spot of water has been falling out of the sky around these parts of late. Having quietly ignored my front brake pads while they continued to behave perfectly well for several months despite Phil's dire warnings about the reluctance of the nearside wheel to spin freely while it was up on the hoist, I had a wee bit of a scare on a sneaky bend in torrential rain recently.
Negotiating a series of roundabouts while escaping the clutches of central Bradford, I very nearly swapped lanes rather more suddenly than I would normally prefer. I was accelerating gently up the middle lane out of an uphill lefthander, between lorries and cars on a very wet road, when I started to pirouette to the left! Nice if you're a ballet dancer, but not so good surrounded by a ton of metal, which, given half a chance will overturn if you do anything unexpected.
Keeping a cool head and feet off the pedals (travelling uphill did my braking for me) I somehow managed to correct the skid, avoid what a biker would call a 'tank slapper' and carried on to my destination down Leicestershire way, terrified into a 40 mph motorway crawl, 30 mph and with juggernauts sailing past me when the downpours danced off the tarmac.
Suzuki Grand Vitara
Spec: 3dr SE 2.0L Tdi
Mileage: 57,235
MPG: 30ish–40ish depending on journey type
Recent costs: Diesel about £60-£65 a tank. Front brakes £I26. Service, Tax and MOT are due end of the month
Arrived: October 2008

You can read more about this Suzuki in the November 2011 issue of 4×4 Magazine.