Louise Limb – contributor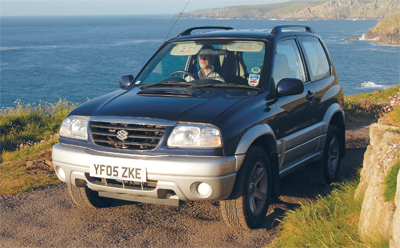 A quick 1500 mile trip down to West Penwith and back this month reminded me why I bought the car in the first place. The journey was completely trouble free, apart from the usual niggles, squeaks and rumbles that may or may not be real problems – I'll leave the bonnet shut for the moment…and a diesel bill that cost more than the Landmark Trust rental and for a 4×4, the SWB Grand Vitara is really quite economical! Half a ton of seabird guano and airborne spume from a windy but glorious Cornish coastal break necessitated a thorough clean for the Grand Vitara on my return to ward off corrosion as, at the rate things are going with finances, this car's got to last as long as I do.
Back in the real world of Yorkshire lanes, being able to see over the walls and sometimes oncoming tractors reminds me of one reason why I first abandoned a 'normal' car. Another reason was self respect. After years of ferrying children and teenagers about, a go (almost) anywhere car with two seats plus two other part time ones gave me a sense of adventure, along with the knowledge that low box is always an option. Now with grand parenthood imminent I find myself consulting the guys down the dealer about fitting child seats in the rear.
Suzuki Grand Vitara
Spec: 3dr SE 2.0L Tdi
Mileage: 55,885
MPG: 30ish–40ish depending on journey type
Recent costs: Diesel continues to leave a bomb hole in the bank balance
Arrived: October 2008
You can read more about this Suzuki in the October 2011 issue of 4×4 Magazine.