Louise Limb – contributor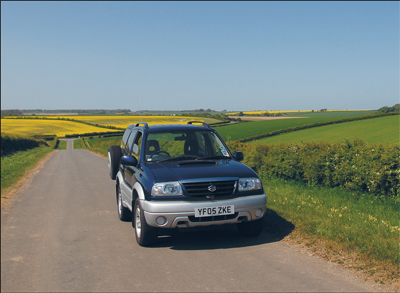 When my Grand Vitara was shiny and new (well, new to me) I marvelled at its relatively quiet and torquey diesel rumble, the luxury of decent interior trim after the Spanish built crate that was my 4U2, and door pockets. The Vitara discouraged the casual thief. Anyone looking in would see nothing much on show, because there was nowhere to put anything, not even door pockets. It encouraged a degree of asceticism, which I now feel was probably good for my soul. This didn't last and I did buy and eventually fill plastic storage boxes, which floated around the floor.
Now I have lived for a while with my sufficiency of drinks holders (which I use to store pens and art materials, chewing gum and other nameless stuff) and odd little nooks and shelves, I find my car has become a reasonably orderly extension of my workspace. Except of course, my home doesn't have brakes and we don't have much in the way of earth tremors round here, so when I have to pull in swiftly on a country verge for the inevitable youth in a Golf blatting around blind corners at inappropriate speeds, or death wish bunnies threatening to coat my wheels with guts, the carefully arranged sideboard of goodies always seems to end up in the passenger footwell – which is a beneficial if mystifying design point, as the contents of a paint box around your feet while driving is not to be recommended.
Suzuki Grand Vitara
Spec: 3dr SE 2.0L Tdi
Mileage: 52,030
MPG: 30ish–40ish depending on journey type
Recent costs: Visiting fuel stations is nowlike going to the dentist
Arrived: October 2008
You can read more about this Suzuki in the July 2011 issue of 4×4 Magazine.