Louise Limb – contributor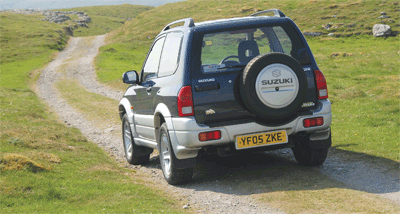 Having borrowed some Mediterranean weather for a few days, Britain basked in some pretty noticeable warmth and I snatched myself some time to get out on the hills and enjoy the fabulous Karst landscape that's some 20 minutes up the road from me. The wild pansies and skylarks took my mind off the impending expenditure that the Grand Vitara was bound to incur.
Tuesday arrived, the sun went in and I handed over my keys to the nice people on the service desk at my local Suzuki main dealer. The good bit was that Phil was to be my grease monkey for what should have been the GV's 36k miles service – a big one. He's taken his Jeep to Croatia, knows his off-roaders and has a reserved view of anything Land Rover that was manufactured after 1971. His last Defender cost him £1000 in one year and that was using his immense skill and experience as well as secondhand parts. Phil was keen to show me what he was doing to my precious daily drive so off I went, beyond the edge of the carpeted public area and into workshop land.
Reassuringly, the front brakes, replaced a few months back, showed minimal wear and the rear only 10-15 per cent. Amazingly, the original Bridgestone Duelers are still fine, certainly for road use, after 41k miles! I tend to brake lightly, preferring engine braking to avoid the scary tendency the rear wheel-driven Grand has to shimmy round corners if taken too fast, and avoid all my stuff ending up in the passenger footwell… This meant that my pads had actually glazed! Guess I'll have to batten down the hatches and slam on occasionally.
Likewise, the silencer had only slight rust incursion and the rest of the underside, while not pristine, was fine, considering the punishing winter it's just had. Shocks showed no signs of weeping and all the oil was in the right places. Phil explained that the diesel and V6 models were fitted with a heavy-duty Aisin gearbox and that he had never had to do any work on them so far, unlike the 'boxes on my previous petrol Vitaras… "They were Spanish," he added with a smile, "this is a proper Japanese one."
I was still confused. Why did I think my exhaust was blowing and that the Grand felt 'odd' for a while? The answer lay hidden down behind the intercooler. The butterfly diaphragm, which allows all 16 valves to operate after the 12 that open up to 2000 revs, had broken. I hope the extended warranty I took out on purchase will cover the repair, otherwise I'm going to struggle – this uncomplicated service having set me back £350!
SPECS
Model: Suzuki Grand Vitara
Spec: 2.0 Td
Mileage: 40,005
MPG: 30mpg
Recent costs: Service included brake and fuel filter check – £357.31; £150 labour; £36.16 oil £87.93 filters, cleaners and sundries plus VAT
Arrived: Oct '08