Hils Everitt – Editor at Large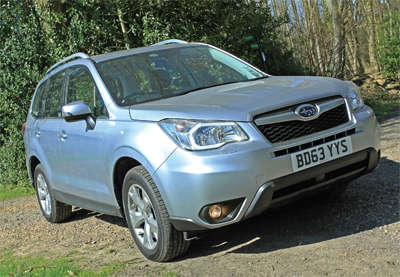 This month we have taken delivery of a new long-termer. Having won our Mid Range SUV category in our 2014 4×4 of the Year, we wanted to give the latest Subaru Forester a real-life long-term test, as opposed to the week that our big test allows us.
The latest, fourth generation, version was launched early last year and was available from May, so now it is approaching its first birthday on the road. Sales figures before launch of the fourth incarnation had reached 170,000 globally (15,000 Europe) and since May, Subaru has shifted 1300 units in the UK of the new version. We completely fell for the original Forester, launched way back in 1997, which sold around 8000 units until it was updated in 2002. It looked like a conventional, bland estate car, which many didn't like, but it offered low-range gearing and was a very good competent off-roader, which afforded a remarkably pleasant on-road drive. (This month's – June 2014 – Buyers Guide includes the Forester, see page 96).
My big sister bought a used, second generation model in the early noughties but some total lowlife nicked it as a getaway car in a robbery in 2006. It was eventually recovered, but ended up a write-off and she was gutted that the insurance payout couldn't muster another one. We all loved the original Forester here at the magazine, highly commended the second and third generations and are pleased that it hasn't evolved into just another SUV and not lost all its off-roading prowess. But some modern styling is the way of the market and Subaru cannot ignore that. Its boxy, estate styling of old has morphed into a curvy, yet macho family saloon that does mirror the fashionable, Evoque-like narrower rear windows, but its muscular frontal styling gives it an edge over competitors.

You can read more about this story in the June 2014 issue of 4×4 Magazine – available here