Hils Everitt – Editor at Large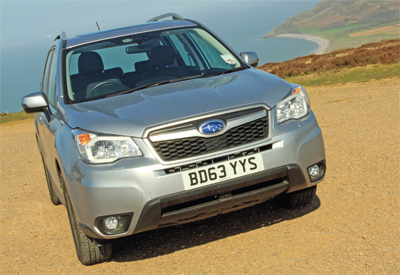 Long journeys in pursuit of features was never a problem in the good old days when fuel cost a few pence per gallon. We didn't bat an eyelid at driving big old petrol 4.0-litre engines for several hundred miles in more traditional 4x4s that ate up the miles and, therefore, the gallons. Returning less than 20mpg, and in some cases 10-15mpg didn't really figure on the radar.
Oh how times have changed. Now, we hardly ever drive big petrol engines. 'Big' diesels, like in Discovery 4s and its rivals, now return over 30-plus and we are pleased with that. The big luxury 4×4 manufacturers still strive to bring those figures into the more palatable zone towards the 40mpg mark, but it is in the mid-sized SUV market where you'll find the most impressive mileage returns for your hard-earned cash.
Our long-term Subaru Forester boasts a combined figure of 49.4mpg, with 40.4mpg on the Urban cycle. In its first few weeks buzzing around town and shorter local trips the computer told me that I had averaged 39.6mpg, which is pretty pleasing and almost on the button. On a few long trips lately if has not failed to meet its target and has impressed. In fact, it has exceeded them on occasion. A drive from Kent to Exmoor, as the first real test, I was clocking up to 47.5mpg. That trip included quite a number of miles overworking the manual six-speed gearbox on steep, winding narrow Exmoor lanes. That was actually quite disconcerting seeing the display to my left constantly updating consumption, and on those beautifully scenic and hazardous lanes it was dropping from the mid 40s.
Spec: XD Premium
Mileage: 2963
MPG: 48.6
Recent costs: None
Arrived: June 2014

You can read more about this story in the August 2014 issue of 4×4 Magazine – available here