Hils Everitt – Editor at Large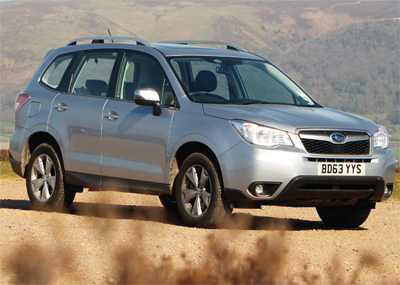 Having now put a few hundred miles on the clock of our latest edition to the 4×4 fleet, I am getting a feel for its temperament, idiosyncrasies and excellent features. First of all, I will say the biggest thing I don't like about it is the silver bodywork – shallow, I know, but there you are. All the latest SUVs are looking very like each other, although this fourth generation Forester does have a more muscular stance perhaps and therefore more presence than most, but I think silver just doesn't suit this genre of 4x4s. I'd rather have it in the VW Touareg blue or Discovery 4 metallic bronze, or even brilliant white would be better; bigger 4x4s look really cool, in all senses of the word, in white.
As we are on the slightly negative side, I will say that I have driven smoother manual gearboxes: this one is not bad by any means, just not the smoothest. Admittedly, it's been a while since I have handled a manual 4×4 on a regular basis; my last three 4x4s have been auto. (NB: Have to confess I nearly stalled it a few times, just because on coming to a halt, on a constantly jammed up M25, I forgot I was driving a manual – not proud…)
My slick and easy auto 'boxes have been mated to either 4.0-litre petrol or 2.7/3.0-litre diesels; so I've also had a lot more power to play with. The Forester 2.0-litre diesel and six-speed manual can be a lumpy combo. Brisk road work does require a little bit of effort, as there is not much acceleration oomph at lower revs and you feel the rather-too-evident turbo lag, most noticeably in the higher gears. Acceleration can be fairly responsive, however, if your gearshifts are slick enough.
Spec: XD Premium
Mileage: 2030
Recent costs: None
Arrived: June 2014

You can read more about this story in the July 2014 issue of 4×4 Magazine – available here