Hils Everitt – Editor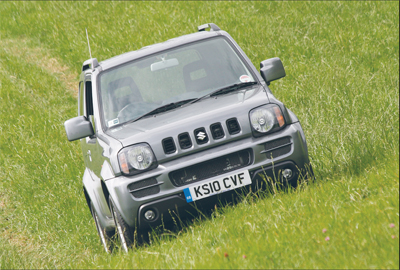 My beloved Jimny nears the end of its time with us at 4×4 Magazine just as the rugby season ends, and it has proved an excellent manager's kit lugger over the course of the season.
I have extolled the virtues of its surprisingly good carrying capacity despite being a diminutive 4×4 in previous reports. You have to put the rear seats down to make the best use of the space – that is obvious – and the seats don't actually fold down flat, but there is still a good area for stowing an enormous shirt bag, two sets of water carriers and bottles, a large water carrier for fill-ups, a bag of balls, and various other bags full of kit that 18, hefty muscle-bound rugby players need to get them out on the pitch every Saturday.
Due to the poor weather we have had during the season I have had to protect the Suzuki's rear with some plastic sheeting to make sure that the excessively muddy kit has not soiled the leather upholstery or the carpet-backed rear seats.
One thing that has proved a little annoying when unloading/loading in the dark which has happened a lot during the winter months, is that there is no rear interior light on the Jimny. This means you are relying solely on the front reading lamp. Although quite a powerful beam, it just doesn't light up the rear enough in the dark when you're getting kit out. And some of it is heavy and it can be delicately balanced so I have often knocked things over and various items have fallen out the back because I had no idea was hitting them with the huge kit bag.
What I have liked are the rear storage bins for each passenger which have proved useful for packing in smaller items that won't roll around, and I could wedge my pitch-side rucksack in there which is my bottomless pit of useful kit from spare studs to tape; and spare shorts for those embarrassing moments when a beefy front row forward emerges from the scrum with his dignity not altogether intact… ■
Suzuki Jimny
Spec: SZ4 manual petrol
Mileage: 5180
MPG: 36
Recent costs: Petrol to away matches
Arrived: August 2010
You can read more about this Jimny in the May 2011 issue of 4×4 Magazine.