Nigel Fryatt – editor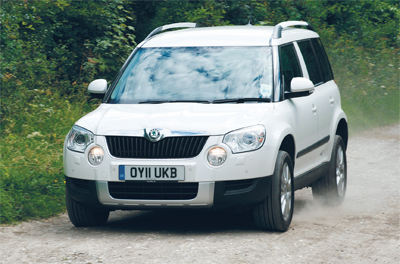 You don't have to go back that far before remembering that the name Skoda was once associated with some childish automotive jokes and a Yeti was a large hairy manlike creature said to live in the Himalayas. So adding the name of a mythical mountain creature (that has also been the bane of many people's jokes), to an odd-looking new vehicle was a bit of a risk, surely. Looks are subjective, but no matter which angle you look at it, Skoda's Yeti is, well odd – more miniature ambulance or ice cream van than off-roader. Odd looks, joke name, this had batter be good…
Skoda as a company has seriously benefited from its ties with Volkswagen and our short time with the Yeti confirmed this as soon as we opened the door, sat inside and switched on the ignition. It's built to VW standards, for sure, and the 2.0-litre TDI CR engine, found in other Golf models, delivers a great punch of 140bhp for normal road use.
Indeed, when inside the odd looks of the body style are forgotten, as it drives and feels much like a Golf, but with the added bonus of more headroom. You can't fault it and you could certainly live with it. It's permanently 4×4, but with additional electronic off-road abilities that are not available in many crossover, tarmac SUVs.
Skoda Yeti
Spec: 2.0-litre TDI CR
Mileage: 576 for our week's test
MPG: 35-45mpg
Recent costs: n/a
Arrived: Here and gone in a week!

You can read more about this Skoda in the October 2011 issue of 4×4 Magazine. Buy it here