Phil Weeden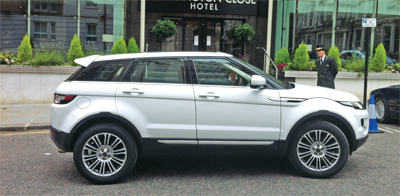 Ok, so not technically my 4×4, but I've been lucky to pilot a Range Rover Evoque recently for a trip to the Coronation Festival at Buckingham Palace and then down to Goodwood for the Festival of Speed. By sheer coincidence, it was the exact same example that I borrowed at Christmas – a 2012 Prestige model in Fuji White. Nothing informs you more about how good a car is than living with it day in, day out: and the good news is the Evoque in this 188bhp 2.2-litre diesel manual guise is really rather good. It feels reassuring on the road, yet we also know from past experience that it's excellent off-road. The interior is well appointed, stylish and in this spec well equipped. With its Grey Oak Wood and brushed aluminium trim, the Evoque's interior has a contemporary flair. The dark leather interior and narrow side window graphic could have meant a gloomy cabin, but the panoramic sunroof soon alleviates that (optional as part of a £4425 Lux Pack). The dials have a jewel like quality that read well and look good.
Some people bemoan the styling, and certainly the white paintjob divides opinion. However, one cannot deny that the sleek shape, dramatic stance and huge 20-inch alloys make the Evoque stand out amidst a sea of automotive mediocrity.
We used the Evoque to drive into London for the Coronation Festival at Buckingham Palace. City driving is pleasant in the Evoque thanks to excellent forward visibility and large door mirrors; the stop-start gets a bit irritating, but this can be deactivated and in heavy traffic an auto would obviously be preferable. Not that the six-speed manual box is obstructive in anyway; quite the opposite, the change is sturdy but precise.

You can read more about this Jeep in the November 2013 issue of 4×4 Magazine – available here