Ann Lockley – contributor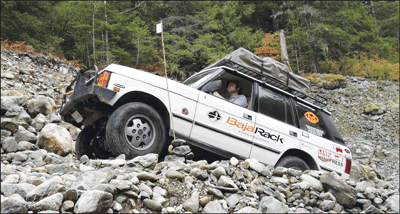 After three months dead in the driveway trying to find a replacement transmission, Kelsey is finally running again! Thank you Dixon Strachan of Rock Island Rovers for the transmission and Jason Coakley of Simoes Automotive for organizing the install. And a big apology to Norbert Simoes, owner and poor soul who did most of the work for what I gather was a nightmare of a swap. I hear 'Kels' is banned from rolling into the shop ever again.
Barely a week after she rolled out of the garage, Jason and I took her to Squamish, BC, 40 miles north of Vancouver, to compete in the Northwest Challenge. NWC is an annual event, shared between the Pacifi c Coast Rover Club and the Rover-Landers of BC that swaps locations each year between Oregon, Washington and British Columbia. The challenge is a series of 10 timed off-road driving, navigation and potential survival tasks that pit driver and co-driver teams against each other.
Thankfully, Jason had competed in other timed driving rallies as I was at a complete loss throughout the entire event. He carried us both while Kelsey upheld her reputation as an unstoppable trail rig, even when there was some confusion between driver and co-driver about what is considered 'slow and steady' during a river crossing in an un-snorkeled, petrol Range Rover. Congratulations to Mark and Kris Maksymiuk for their well-earned first place finish and a big thank you to organizers Barry and Andrea Newton.
At the time of writing this piece, my trusty Ranger Rover and I are 10 days away from our next big adventure: Six weeks, 10 states, 5000 miles, the National Land Rover Rally, SEMA and teaching a weeklong photography workshop in Chinle, Arizona to Navajo youth will keep us busy and out of trouble. I hope she will be ready for the trip and uphold her reputation of being quirky and clunky, but one of the best 4x4s xfar!
SPECS
Model: 1991 Range Rover GDE
Spec: 3.9L V8
Mileage: 268,872
MPG: 13mpg
Recent costs: Transmission $0 (thank you Rock Island Rovers!); installation $1200
Arrived: Feb 2007