Ann Lockley – contributor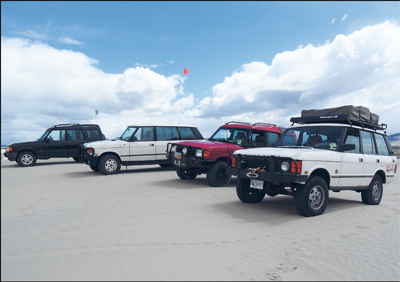 Whether you are a mountain biker, climber, kayaker or off-roader, Moab, Utah should be on everyone's 'bucket list'. The spectacular scenery, the incredible slickrock trails, and the funky little town all make it a unique place to visit. That being said, unless you like overcrowded trails with Jeeps as far as the eye can see, don't visit over the Easter holidays.
Jeep Easter Safari is the largest off-road event in North America with two thousand registered vehicles in attendance and normally double that of 'hanger-on', unregistered vehicles. The place is a zoo with up to 50 vehicles per trail at any time and every campsite and hotel room booked up sometimes a year in advance.
What you really do not want to experience, however, is trying to get your Range Rover looked at in the middle of Safari week. First off, Rover mechanics are hard to find in Moab, Utah any time of the year. Second, there is a waiting list just to speak with a mechanic. Then, when you do finally speak to him, he tries a few things that only exacerbate the various problems the truck already has. He then closes the hood and tells you that if you want him to fix the problems, it has to wait until next week. You know I will be recommending his shop whenever and wherever I can!
Spec
Model: 3.9 V8 GDE
Mileage: 273,254km
MPG: 13
Recent costs: $40 for the mechanic in Moab to exacerbate her problems and not diagnose anything, $21 air filter, $55 lube and oil
Arrived: February 2007
You can read more about this Range Rover in the August 2011 issue of 4×4 Magazine.