Ann Lockley – contributor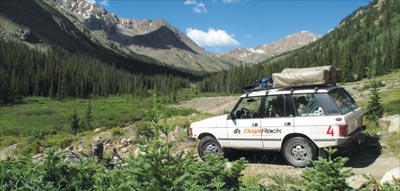 It felt good to climb into the old Range Rover after five weeks of driving such a wide variety of vehicles while travelling in the States. I missed the amount of visibility from the cockpit of the RR, the height when in traffic, how easy it is to manoeuvre her, and even the space other drivers tend to allow you, although I am not sure it is a sign of respect or a concern that parts may fly off at any time. Either way, sliding behind the wheel felt like coming home.
Tom Griggs at Great Basin Rovers found me a used ignition switch to replace the faulty one – thank you, Tom. This has solved the entire cutting out problem and most of the hesitation under load.
Now she sits in the driveway waiting for a new coil that will hopefully fix the remaining hesitation and a bushel of new bushings and ball joints to, we hope, cut out the wobble. New shocks, springs, canter-levered radius arms, rear trailing arms and who knows what all else will be next. With nearly seven weeks remaining to get her ready for the next big trip, it is going to be a busy couple of months turning wrenches and cursing like a sailor. The really good news is that I now have an Engel MT45 fridge for 'Kelsey'.
SPECS
Make: Range Rover GDE
Spec: 3.9L V8
Mileage: 268,772…still…two months running
MPG: 13 when she runs…
Recent costs: A half crate of beer…
Arrived: February 2007
You can read more about this Range Rover in the February 2011 issue of 4×4 Magazine – back issues available here