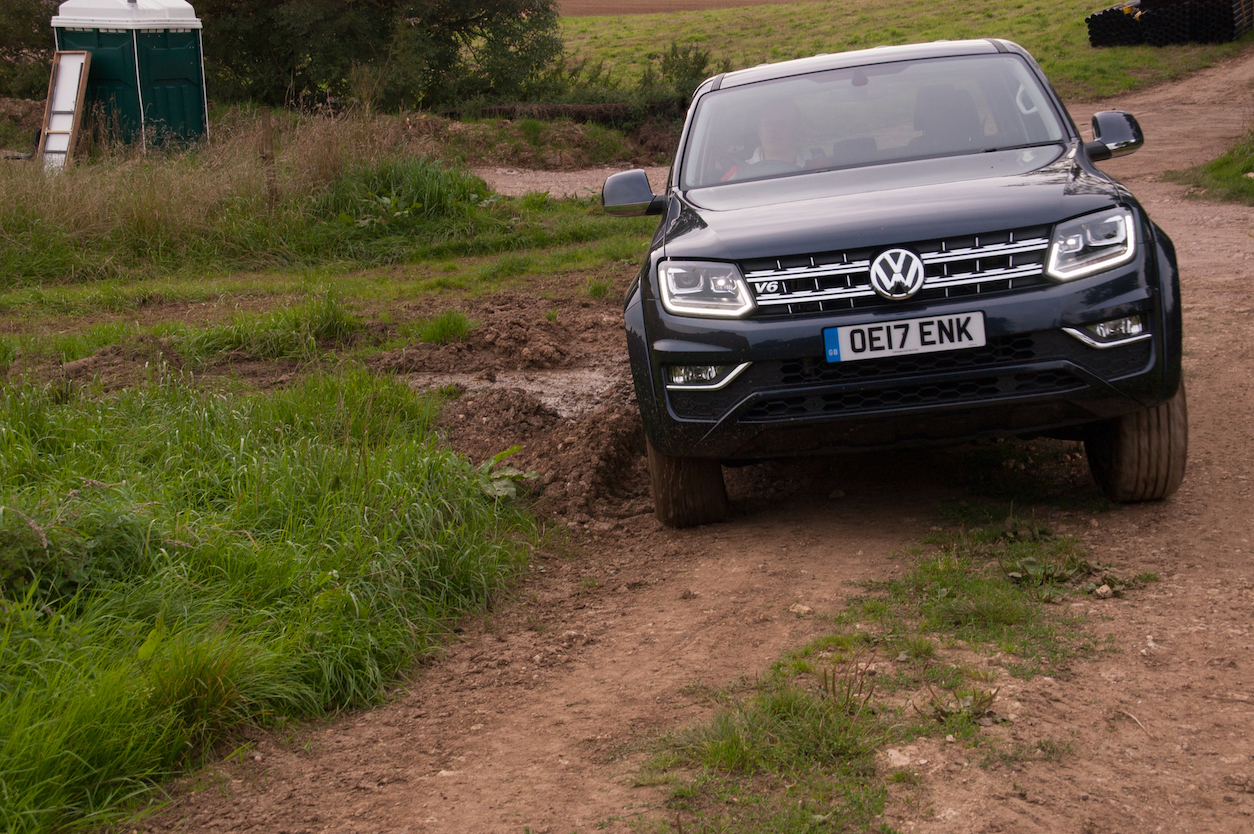 There was a lot of hype surrounding the arrival of the new Amarok at the start of this year. VW's double-cab had already gained a lot of admirers despite having the smallest engine on the market (a 2.0 TDI), but now here it was being reinvented with a 3.0 V6 TDI that was one of the biggest.
The engine was always going to be the biggest talking point with the revised Amarok. It's available with three different power outputs… or at least it will be once the launch process is fully complete.
That's because you can currently get it in 224 and 204bhp form, in each case with an eight-speed auto box as standard. Later this year, VW   says, the 204bhp unit will gain a manual gearbox as standard. 
At the same time, there'll also be a 163bhp version of the engine; this too will be manual as standard. The range will also be expanded to include a Startline model specced with fleet and business customers in mind.
For now, however, we have a range of three. The Trendline is comfortably specced, while the Highline adds some bling and luxury. You might also still get one of the Aventura launch models, but the 224 Highline tested here is the range-topper going forward.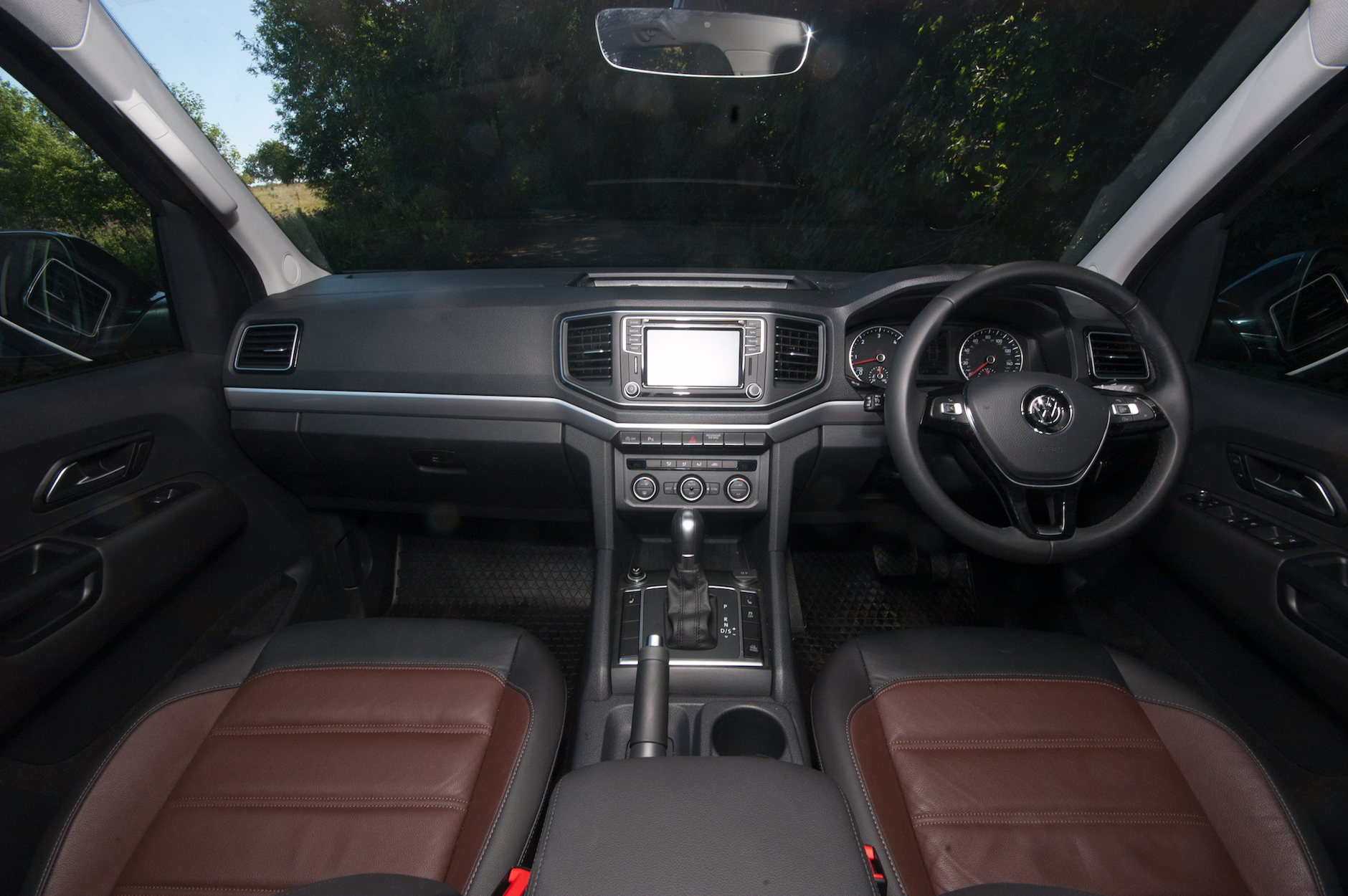 Our test vehicle had optional brown leather, but even without this the feeling of quality in its cabin is obvious from the word go. The dash is all hard plastic, but the standard of build is very good and the centre console is rock solid.
The seats don't have lumbar adjustment, however. We found ourselves shuffling around in them after an hour behind the wheel when we first drove the Amarok last winter; this time, long journeys on the motorway proved that it's a comfortable enough place to sit, but we still found ourselves reaching in vain for a lumbar lever after a while on board.
The Amarok is not alone in lacking this apparently obvious feature, but a more surprising black mark is the lack of decently proportioned stowage space up front. The cubby, glovebox and door pockets are all small and awkward to get into, so you're likely to end up leaving things like your shades, keys and wallet in the bin and cup holders in the centre console.
Most seriously, however, we were disappointed by the lack of knee room in the back seats. We commented last time that you'd struggle to get four tall adults on board without at least one or two of them having something to grumble about; this time, we found that a five-year-old couldn't get into his car seat without the driver (who stands at 6'1") having to slide forward and hunch up.
The back of the rear bench does at least drop forward to create a flat platform. Whether this is really better in practice than just putting things on the seats is open to question, but it's there.
Also there are hidden stowage bins under the front seats, which might help save you from having to take small items with you when you leave the vehicle parked up. But when it comes to practicality, obviously in a pick-up it's all about the rear bed, and this has a tough plastic liner with four lashing rings proud of it, as well as a 12-volt socket in the side of the bed.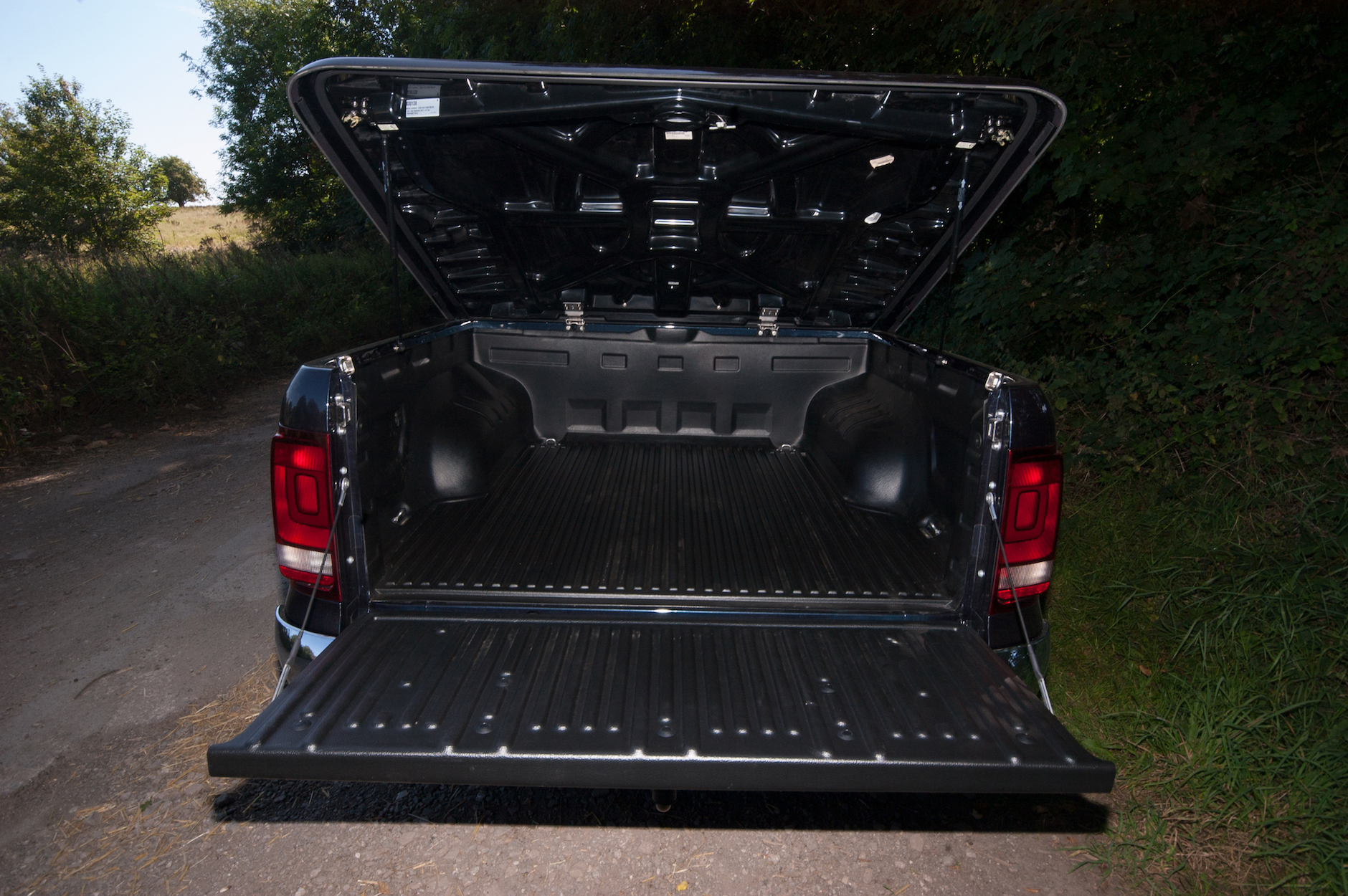 Thus provisioned, the Amarok is well equipped for a duty of work, and our test vehicle also had a rigid flat deck to keep things secure. The tailgate locks, too (using a key, rather than as part of the central locking circuit), and you can spec the vehicle without a rear bumper to let it drop fully down and sit vertically, allowing you to reverse right up to loading bays.
As is often the case with pick-ups, there are areas in which the Amarok frustrates us. Its dash looks outstanding, and it's as well made as it is thought out – but if you have any sort of need for proper rear seat space, you'll come up against a serious obstacle.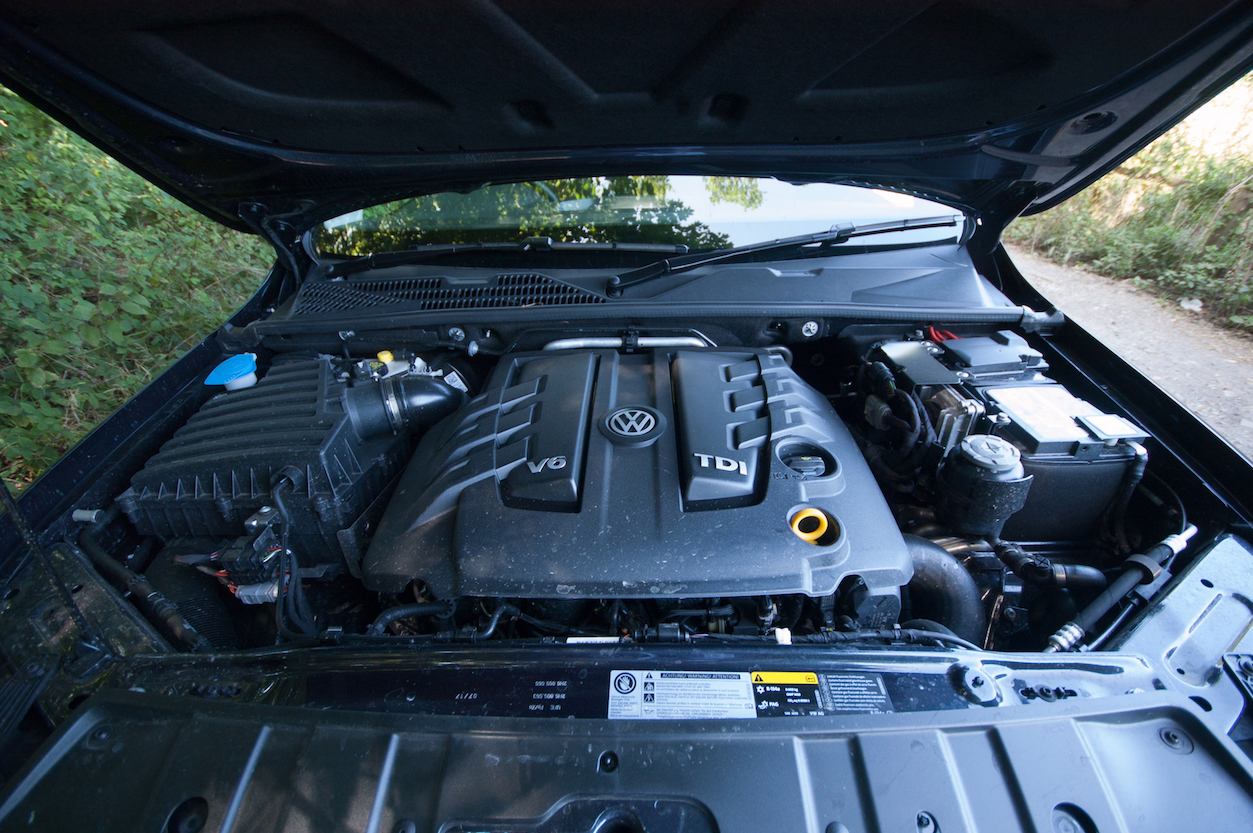 A car would need to be pretty heavy to have 224bhp and not feel at least reasonably fast. The Amarok is indeed pretty heavy, but it does still feel usefully brisk by pick-up standards – even if the gearbox takes a fair bit of winding up when left in auto mode.
It does change gear smartly when you start working the paddles behind the steering wheel, however. All the same, with so many ratios to deal with it's a lot more relaxing to leave it in auto and just live with the rise and fall of the revs.
While the auto unit is genuinely sophisticated, we do find ourselves looking forward to the day when the Amarok gains a manual. Even though it will be limited to less powerful versions of the same engine, we have little doubt that they'll be more enjoyable to drive and quicker from A to B in the hands of a typical pick-up driver.
Talking of A-to-B pace, the Amarok's steering takes a lot of getting used to before you can handle it with confidence. It's nice and light around town, but gains more weight than is necessary at speed – so much so that at first, you might find yourself thinking something is jamming it. We really did find it that unnatural. The extra weight seems to be trying to make up for a lack of feel, too.
Our previous experience with the Amarok was in a version with 19" alloys and 255/55 tyres, so we were hoping the 225/60R18s on this model would allow a gentler ride. Not that we found it harsh previously, but there were some jitters from the suspension which upset its poise at times.
Happily, there was no sign of that this time. The Amarok still feels heavy over speed bumps and so on, but while the impacts certainly come through they do so without upsetting its composure, and its suspension settles straight back down – even when running unladen.
We also noticed a complete lack of vibration through the vehicle's drivetrain and pedal box. That's a particular boost to its refinement, which is generally as high (by pick-up standards) as its cabin quality would have you expect.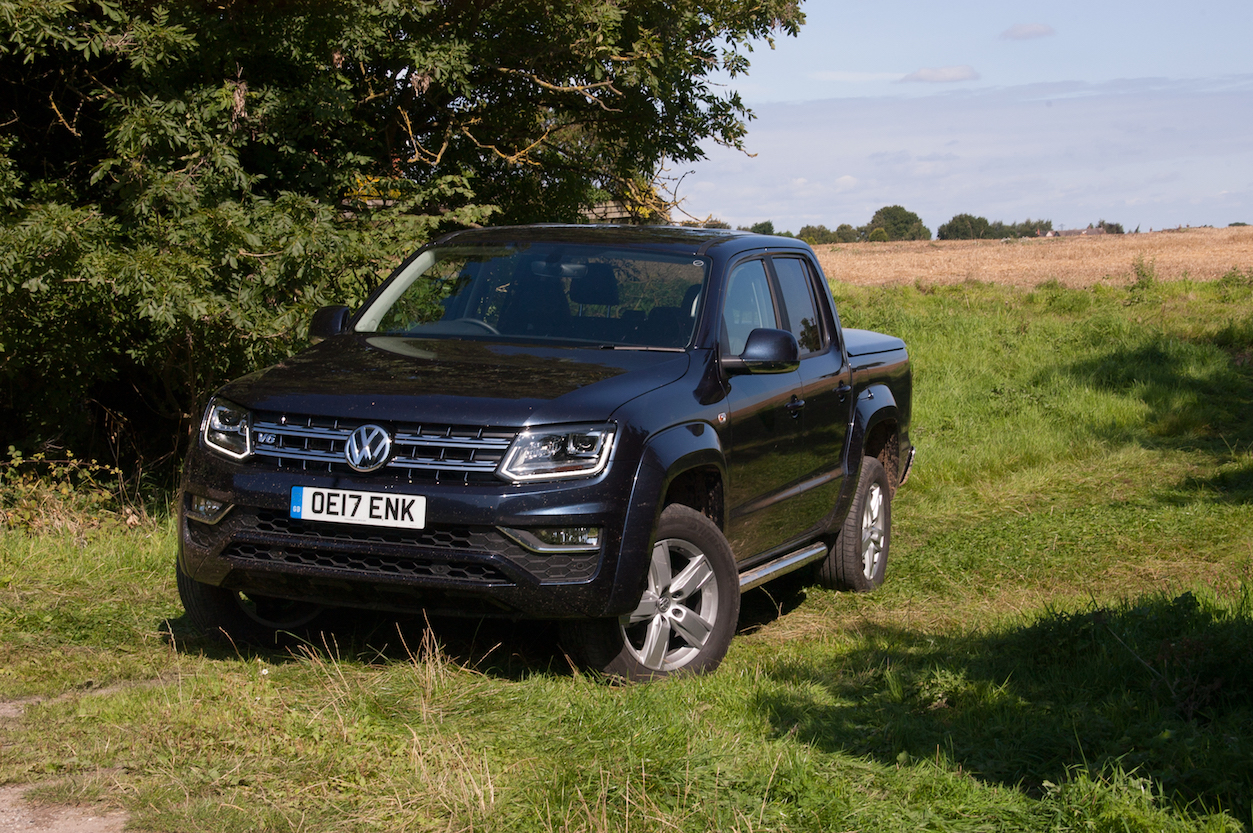 All the same, the entry-level Amarok will come on 16" rims – and we can't help thinking about how much fun it would be with a manual box and a set of 265/75R16s. That's a reference to the tarmac, but it also rings every bit as true off-road – not least because manual models have low box, but autos do not.
For many (and we'd be among them), this would be an absolute deal-breaker on the Amarok tested here. While you can't yet get one with the correct equipment for proper all-round use, however, models with the auto box do have an Off-Road button which brings hill descent control into play and modifies the behaviour of the ABS to suit loose ground.
This is certainly necessary with no low range, but to be fair on the Amarok it's almost unbelievably agile, and tractable, in really tight conditions. The auto box works well enough when used manually, and at these speeds the steering is lovely and light, so the physical effort required to drive it is low, but we found it quite mentally tiring to be constantly working the paddles on terrain where we'd being leaving a manual in low first or second and letting it find its way.
Once again, then, we think the arrival of the manual box will be the making of this Amarok. It does great things with big alloys, low-profile road tyres and a gearbox we wouldn't choose – so with proper tyres and a manual with low box behind it, we expect the vehicle to demonstrate just how good this engine is capable of making it.
Volkswagen's options list includes a locking rear diff, too, as well as heavy-duty underbody protection. And of course the aftermarket is right across the sort of accessories it takes to bring out the best in a good truck. Wait a little longer, then, and the Amarok has the potential to become the best off-roader in the one-tonne market. For now, while it's very good, that's despite itself – this is a tale of massive potential waiting to be realised.
The Amarok tested here lists at £30,495 – that's £37,627 on the road if you pay your VAT, and the options on this truck would kick the latter figure up to £39,805. We were critical of the vehicle's high price when we drove the Aventura model at launch; to be fair, VW is not alone in flirting with the £40k barrier for its top trucks, but it still concerns us that at that sort of money, flaws like the lack of rear knee room become harder to forgive.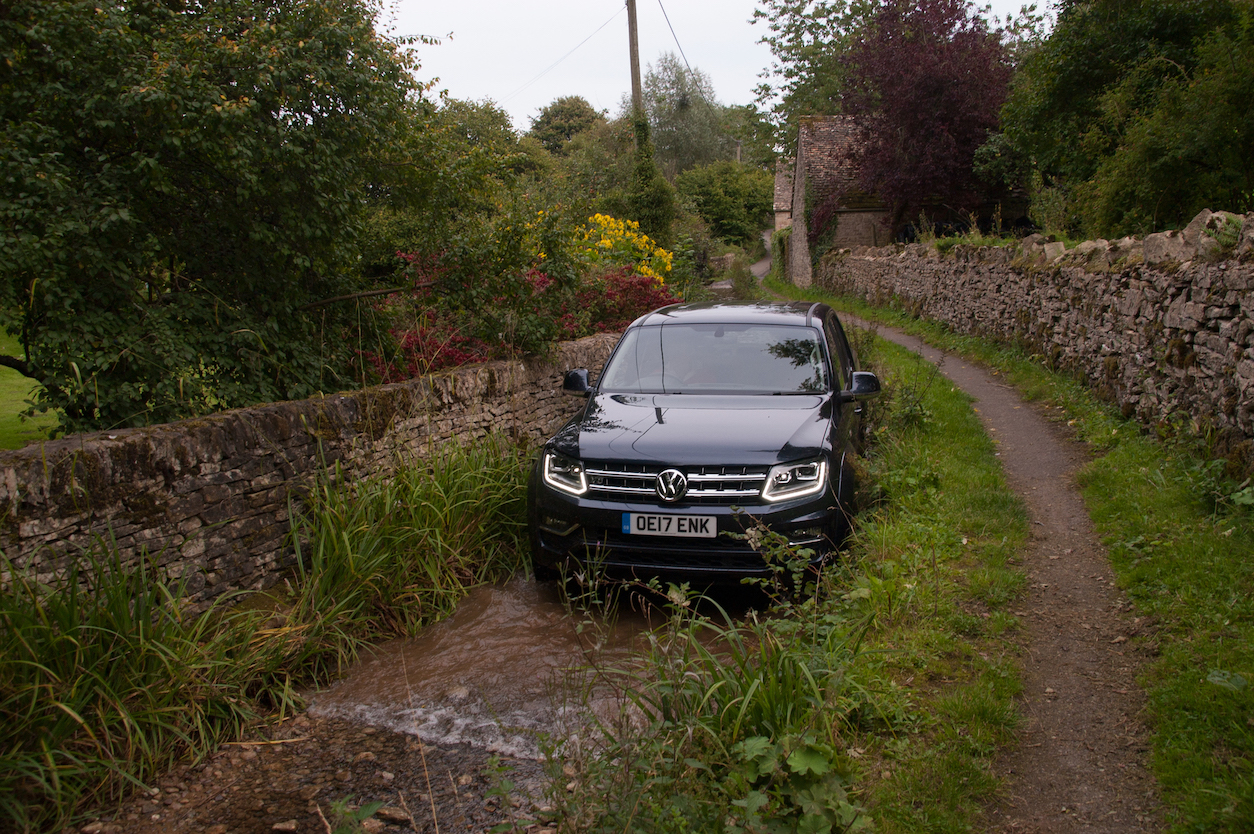 You do of course get plenty of kit for your money. And the Amarok has a level of build quality that instils great confidence in it as a product – though we'd expect it to have a warranty which at least matches the best on the market, and 36 months or 60,000 miles is trounced by the 60 months and 100,000 miles for which Nissan will look after you if you buy a Navara.
The good news is that once the Amarok range is complete, you'll be able to buy one for a lot less than this. And, in our view, it will be the right one. Combine a manual box with a more modest spec level and, having worked the discount game, you should be in the best model for less than £30k. At which point, we think the pick-up market may well have its first five-star truck.
First featured in 4×4, December 2017 issue.