Ford has reintroduced the Thunder badge to its UK line-up. First seen more than a decade and a half ago, the high-spec model had always been at the look-at-me end of the range – and that's the case more than ever now, with a 1400-strong limited-edition double-cab model whose two-tone interior and high-spec leather-clad cabin are very much designed to attract attention.
Powered by Ford's 2.0-litre twin-turbo EcoBlue diesel engine, whose 213bhp and 369lbf.ft are put out through a 10-speed automatic gearbox, the Ranger Thunder is based on the Wildtrak model and costs from £32,965 plus VAT. Its styling package includes a Sea Grey paint scheme with red highlights, as well as 18" alloy wheels whose black finish matches those of the front grille, rear bumper, skid plates, light bezels and door handles.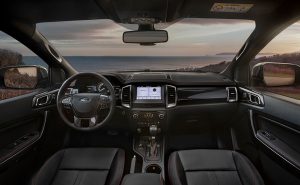 Inside, the cabin features black leather seats with red stitching – which is also extended across the steering wheel and dashboard. You even get bespoke red-illuminated sill plates.
The Thunder model aims to help the Ranger build on last year's best-ever European sales figures of 52,500 – which included more than 16,000 in the UK alone. This level of popularity is even more remarkable considering the Ranger is the oldest pick-up on the market – two major revisions notwithstanding, the current model has been in production since 2011.