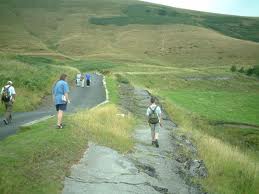 While reading through the latest forum posts on a 4×4 website one particular discussion caught my eye. It was a request for off-roaders to give their views for BBC FOUR observational documentary series about the National Parks. The BBC series will be asking "who are the National Parks for?" and will include a look at the differences in opinion between off-roaders and ramblers/local community in the Peak District.
Many local communities fear that off-road motoring is literally wearing away parts of the Peak District, and other Parks, with ancient trails being ruined and top soil stripped away, which makes areas impassable for horses and a struggle for hikers to climb. I should point out at this point that it is not just 4x4s that are being blamed for problems in National Parks but motorcycles too.
It will be interesting to watch the programme when it airs to see the damage that this off-roading is causing and to find out who is guilty of not caring for our environment. To say that all off-roaders recklessly use our National Parks without a thought for the damage they might be doing is clearly not true, but if a small group of thoughtless drivers are giving other 4×4 users and motorcyclists a bad name we want to know who they are.