Garry Stuart – contributor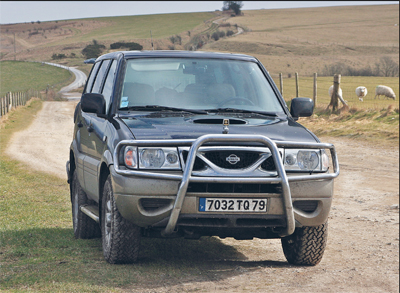 A drive up to Scotland to photograph the Scotia Extreme Winch Challenge was the last straw for me this winter. As I have mentioned previously, I have gone through this winter without a heater in the Nissan, due to a leaking heater matrix. After a long day on a freezing muddy Scottish hillside, I was faced with an equally freezing, four-hour-drive home. Not nice!
The next day I phoned Mark, who runs the local Kirkdale Garage in St Annes, Lancashire, and asked him to order a new matrix pronto. His suppliers seemed to have difficulty in getting one so I got onto the internet and in 15 minutes had bought one from an eBay store (www.demisterman.co.uk) which arrived by courier two days later. The Terrano was then booked into Kirkdale Garage for some major surgery. This will be the subject of a future 4×4 workshop feature, so I'll say no more about it other than it was a traumatic experience.
Nissan Terrano II LHD
Spec: LWB 2.7Td
Mileage: 428,200 Km / 266,071 miles
MPG: 32 approx
Recent costs: Heater Matrix £62.00, Labour to fit £225.00,
Fuses/bulbs £5.00
Arrived: March 2003
You can read more about this Nissan in the April 2011 issue of 4×4 Magazine