Garry Stuart – contributor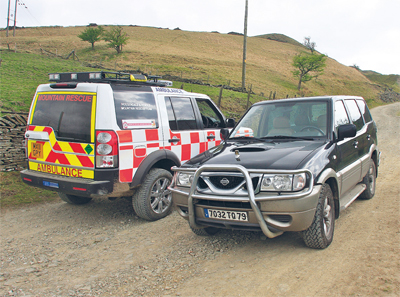 Although the Terrano spends most of its time pounding up and down motorways and autoroutes, there are of course instances when I can take advantage of its off-road abilities. As long as deep water or mud is not involved (my tyres are just not suitable), I am happy to take it on rock and gravel trails especially when it saves me the effort of carrying the camera gear any distance. Although bog stock, the Terrano can cope with fairly rough ground without grounding out too badly.
Recently I had an assignment to shoot a story on the volunteers of the Rossendale and Pendle Mountain Rescue Team undergoing one of their regular training exercises. The site of the exercise was at an extensive quarry system high up above Bacup in Lancashire. It would make a fantastic site for 4×4 pay and play days but is reserved for the exclusive use of mountain bikers and walkers except for the times when the mountain rescue team need to take their Defender 110 and brand new Discovery Emergency vehicles on site for training. The Terrano was able to go on site in its official capacity of camera car.
Nissan Terrano II LHD
Spec: LWB 2.7Td
Mileage: 433,400km
MPG: 32 approx
Recent costs: Only overtaxed diesel
Arrived: March 2003
You can read more about this Nissan in the July 2011 issue of 4×4 Magazine.