Garry Stuart – freelance photographer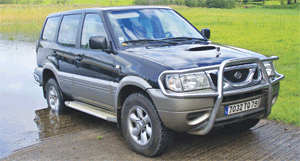 The last month has been jam-packed with events that needed to be covered. In addition to the packed weekend schedules, the Terrano, Stella and I, together with two nephews and a bridesmaid, had to make a midweek trip to the Irish Republic where I had the honour of photographing my brother Michael's marriage to Paula. Leaving from my hometown port of Holyhead we sailed with Stena Line to the port of Dublin. The last time I had made this crossing was way back in 1978 with Stella riding pillion on my Honda 400/4 motorbike. On both of these trips we were headed for roughly the same destination, Roscommon, on the banks of the meandering Shannon River.
The wedding was at Kilronan Castle, quite a grand venue for a Stuart wedding, and one which offered plenty of opportunity for some great wedding pics – I don't always take pictures of massive challenge 4x4s in rip-roaring action. A brief recce of the area on the day before the wedding in the Terrano saw me exploring a few locations around the banks of the lake next to Kilronan Castle.
We stayed in a converted granary behind a traditional Irish pub, called Donnellans, in a hamlet called Knockvicars near to Boyle, a great base for a holiday in this region of friendly welcoming people. Unfortunately, we didn't have the luxury of staying on after the celebrations, having to embark once more on the ferry back over the Irish Sea to Holyhead, just in time to get to the Howlin' Wolf Challenge which, conveniently, was being held at Corwen, North Wales.
The terrain at the Wern Ddu site is too extreme for my road-going Terrano tyres, so I had to hoof it around the challenge sections, some of which were set at 900ft high up on the hillside.
After the 'Wolf' the Terrano and I headed south to the Eastnor Castle Estate for the Majors Memorial Trial, which seemed like a gentle walk in a park compared to North Wales, plus I was able to use the Terrano to ferry me between the two trials areas, which were miles apart, so a little 'soft-roading' was enjoyed.
SPECS
Model: Nissan Terrano II LHD
Spec: LWB 2.7Td
Mileage: 460,000km (285,838 miles)
Test MPG: N/A
Recent costs: Lots of diesel
Arrived: March '09