Garry Stuart – freelance photographer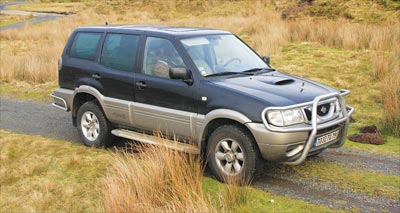 With the onset of freezing snowy weather in December forecast I knew I had to address the problem with the Terrano's broken heater matrix. I put in an order for the part early December and now in early January I am still waiting for the garage to receive the part and repair it. Consequently, I have been driving the Terrano through some of the worst winter weather for years without a heater. Apart from the discomfort of freezing extremities, the worst part was that after de-icing the outside of the windscreen and windows I also had to do the same inside. Because the temperature never rose above freezing over 10 days it meant that, throughout all my journeys, my breath froze on the inside, and every 30 seconds or so a scraper had to be applied to the inside of the windscreen. Apart from being extremely tedious, it seriously affected visibility, especially at night.
A 06.00hrs start to shoot an Expedition Land Rover in Worcestershire was particularly hazardous. Consequently, I postponed a number of shoots until the thaw eventually happened. I hope the heater matrix will turn up very soon.
SPECS
Make: Nissan Terrano II LHD
Spec: LWB 2.7Td
Mileage: 426,000kms (264,704 miles)
MPG: n/a
Recent costs: Windscreen De-icer: £1.99 and a squeegee scraper £1.50
Arrived: March 2009
You can read more about this Nissan in the February 2011 issue of 4×4 Magazine – back issues available here