Garry Stuart – freelance photographer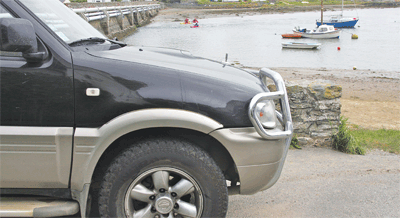 Over the past month or so the Terrano has served as transport to several assignments in Cornwall and Dover plus single trips to Anglesey and Northumberland, racking up the mileage in the process. Touch wood, there has been very little to report as the truck itself has been running as smoothly and reliably as ever. The heater matrix has not yet been repaired, but the water levels have remained constant, not even needing a top-up after covering thousands of kilometres. Strange, it must have repaired itself. Maybe some debris got lodged in the hole?
In Devon, the Terrano was put to light offroad duties carrying me and my kit around the expansive grounds of Newnham Park as I photographed the three-day ALRC Nationals for sister magazine Land Rover World.
As is often the case, the truck is put to use as the 'Terrano bar and grill', as well as my accommodation for the night. The secret is to park it on a slight upslope so that when the passenger seat is reclined I can lie perfectly horizontal. It's remarkably comfortable in fact and beats a small tent in the rain! And everyone thought the life of a freelance photographer was all posh hotels and fine dining …some chance!
At some point while covering an off-road event, my windscreen got hit by a stone while the truck was parked. The small crack quickly grew to an L-shape measuring about eight inches long in the lower centre of the windscreen. This will have to be fixed for my French Controle Technique (MoT) due in August. They give you two months to put things right. I must delve into my French insurance documents to see if the windscreen is covered.
A long run up to see family on Anglesey was combined with a photo shoot of two young lads, one 14 the other 16, who have built their own Defenders, which they drive around on a small holding and a farm, respectively. This gave me a chance to drive the Terrano around their fields and up some metamorphic rocks for a few pics. Later on, I stopped the truck on the causeway between Anglesey and Holy Island to grab some shots of Royal Marines undertaking Kayak training in the tidal fl ow from the inland sea, giving me some great colourful action pics. Now it's back home to France for July and loads of gardening (for Stella) no doubt.
SPECS
Model: Nissan Terrano II LHD
Spec: LWB 2.7Td
Mileage: 410,000km (242,174 miles)
Test MPG: n/a
Recent costs: Countless litres of Diesel Quart of oil £8.50 Windscreen will need replacing, price tbc
Arrived: March '09