Garry Stuart – freelance photographer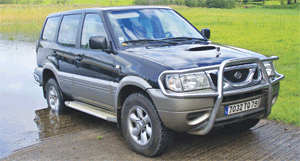 Following a photo shoot in Wiltshire with a pair of Pinzgauers, the Terrano was pointed towards France once again as Qt Services was holding a Wildcat testing weekend in the central Burgundy region.
Making an early evening crossing from Dover, Stella and I had hopes of a nice little B&B and a decent meal in an Auberge. These hopes were dashed when the LD Lines Ferry was unable to let us off the boat because it had lost all the hydraulics controlling the ramp. Instead of disembarking in Boulogne at 19.00hrs we eventually were set free at gone 02.00hrs, so, not for the first time, the Terrano became our overnight accommodation. The next day entailed driving through the St Denis region of Paris, as there appears to be no real bypass, and six hours later we reached our destination – the beautiful mediaeval town of Autun where we did find a good place to rest before an early start at a nearby off-road testing ground, favoured by French Dakar and WRC Teams.
At one point during the day's shoot I had to set up an external fl ash studio to light the Wildcats and their crews for portraits. This was done while everyone else enjoyed a hearty Burgundy lunch. Stella and the Terrano had to play 'models' so I could set up the lights correctly. The results of the day will appear in a later issue of this magazine.
On the long drive back to the ferry I stopped at the services to check my water levels as the heater matrix hasn't been fixed yet and thought: 'What a lot of steam emanating from the footwell'. Five minutes later it was the same, and when feeling the carpet to see if it was damp, I realised that it wasn't steam. It was smoke and the carpet under my throttle foot was charred and about to catch fire! A hole had developed in the exhaust directly under my footwell and a bunsen burner jet of red-hot exhaust fumes had heated up the metal floor under the carpet. I also then noticed my right trainer heel was melted. With three quarters of the journey back to the UK left there was one instant solution – empty a bottle of Vittel into the footwell and carry on.
This we did all the way to the workshop with frequent dousing on the way. The exhaust section was taken out and a piece of tubing welded in – job done so I could go 'hot footing' it to my next assignment.
SPECS
Model: Nissan Terrano II LHD
Spec: LWB 2.7Td
Mileage: 405,000km (250,000 miles)
Test MPG: N/A
Recent costs: 'mate's rates' for sorting the exhaust; Quart of oil £8.63
Arrived: March '09