Garry Stuart – freelance photographer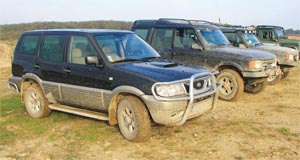 On the last weekend of September the De-Cider Trophy was held near Saltash, Cornwall. This is one of the highlights of the year's challenge circuit and always attracts many of the UK's top challenge teams. The two-day and one-night event means that camping is essential if the cider and hog roast are to be enjoyed.
In my case, this means sleeping in the Terrano passenger seat, which is surprisingly comfortable. I was not, however, expecting sub-zero temperatures in Cornwall, and I nearly froze on the Friday and Saturday nights. Both mornings of Saturday and Sunday were frosty, leaving the Terrano with an impressive covering of ice. They may have to re-name this event the De-Icer Trophy…
After Cornwall it was up the motorways northwards for a Land Rover trial in Lincolnshire. Crossing the Pennines on the M62 (apparently the highest motorway in the UK) the rain was torrential. Visibility was poor, but got even worse, as my driver side windscreen wiper suddenly ceased to wipe, just hanging limp and lifeless. Luckily for me, the other wiper has a wide arc, and by sitting almost on the central console I was just about able to see to continue my journey. I did not have the tools to tackle the job and attempt a repair. The next day, when I did take it all apart, it was apparent that I would not have been able to fix it anyway. The ball and cup linkage had worn away and come apart and could not be re-attached, so the job had to be referred to a local garage, which solved my problem (see our workshop feature on p84).
The following weekend it was back over the M62, this time in brilliant sunshine, to cover the final round of the XTC at the Kirton Off Road centre in Lincolnshire. There is so much mud and standing water in this huge quarry, so I was glad to have the Terrano to drive around the site.
Currently we are back in France, and, unfortunately, our area was a diesel-free zone for a while as a result of the national strikes and refinery blockades that the French are so good at.
SPECS
Model: Nissan Terrano II LHD
Spec: LWB 2.7Td
Mileage: 460,000km (285,838 miles)
Test MPG: n/a
Recent costs: wiper repairs £85 plus VAT; semi synthetic diesel oil £10.20
Arrived: March '09