Garry Stuart – contributor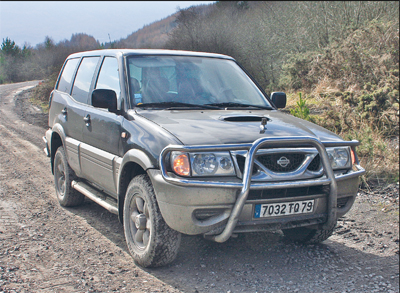 The beginning of March is when the new season for off-road sports events gets underway and that means lots of motorway driving, or at least it did before diesel became so flipping expensive. I had to go and shoot the AWDC new XL Challenge at the Walter's Arena site near Seven Sisters in South Wales. From my starting point in Preston, the Via Michelin Guide on the internet recommended going via Chester, Wrexham, Welshpool, Brecon; a nice drive through the Welsh Marches. My instinct would have been to bomb down the M6/M5 and take the M50 across to Monmouth and Merthyr Tydfil.
I opted for the scenic route thinking that the lower average speed might be more economical on fuel. Arriving at Seven Sisters five and a half hours and 199 miles later, I appeared to have a third of a tank of diesel left.
The Walter's Arena site is a huge area covering 1600 acres, and AWDC's Neil Whitford and his band of marshals had used all corners setting up 20 long sections. Normally I walk around all the sections, but, in this instance, it was obvious that the Terrano needed to do some mild off-road work and cart me around the enormous site.
It was possible to navigate using the 10 huge Wind Turbines newly erected around the area as markers, but it was still possible to get lost on the maze of trails and, of course, I did.
I made the mistake of following a team in a Defender trayback, hoping they'd lead me to a punch section, but they suddenly cut from the track and headed down a steep minor track and stupidly I followed them! I forgot my front wheel hubs didn't engage to give me 4WD, due to being worn out, and when I remembered it was too late and the trail was getting progressively more difficult.
Going downhill I only had to pick my route avoiding deep gullies, and therefore ripping my exhaust off, but at the bottom I was faced with an area of mud and deep-looking water. I realised that if I stopped and lost momentum I would never get through it, but gunning it not knowing what was under the water and how deep it was risked serious damage, so I floored the pedal and hoped for the best. Luckily, there were no hidden boulders and I made it, thanks to a gravelly base under the mud.
I must have covered 30-40 miles just photographing the action. A return journey through the twisting roads I had come down on in darkness felt a bit too much for my tired eyes, so I opted to take the M50/M5/M6 route back up North. Keeping the revs down to just over 2000 and at 60-70mph all the way I actually got back on half a tank and an hour quicker! ■
Nissan Terrano II LHD
Spec: LWB 2.7Td
Mileage: 430,400km/267,438 miles
MPG: 32 approx
Recent costs: Lots of diesel
Arrived: March 2003
You can read more about this Nissan in the May 2011 issue of 4×4 Magazine.