Nigel Fryatt – editor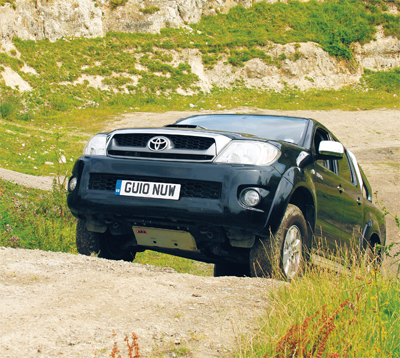 The famous quotation goes something along the lines of 'marry in haste, repent in leisure', well I have a newer version; 'wash your truck in haste, repent in leisure'. Repent? I'm sodding furious with myself, and there won't be much leisure in the repenting.
Personally, I want to blame the hose pipe ban that we had in Surrey, which continued even during the early summer deluge that we experienced. Happily sporting my new Cooper tyres, the Hilux had experienced a great day off-roading at Slindon. Now, since the Coopers do, just, protrude from the wheel arches of the Hilux, the splashing muddy water that I was enjoying was splattered up the smart shiny black paintwork. No problem, and to be honest, many people mentioned the rather impressive pattern it made.
Toyota Hilux HL3

Spec: HL3 D-4D
Mileage: 14,545
MPG: 32/33
Recent costs: Needs a lot of polish and elbow grease…
Arrived: October 2011

You can read more about this Toyota in the October 2012 issue of 4×4 Magazine – available here